Public Charge Win for Immigrant Communities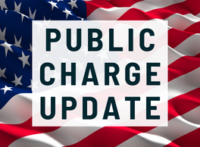 The Illinois-based Trump-era public charge lawsuit has finally come to a close, with the Supreme Court shutting down an attempt by Texas to join the case and revive it. The 2019 rule punished people seeking permanent resident status in the United States if they used—or were deemed likely to use in the future—a wide array of government services to meet their family's basic health, housing, and nutrition needs.
We sat down with Senior Staff Attorney, Meghan Carter (she/her), for a Q&A on why the recent SCOTUS ruling affecting the public charge rule is so important.
—-
Q: I hear we just got some really good news from the Supreme Court?
A: Yes! Earlier this month, SCOTUS declined to hear arguments presented to them by Texas (and other red states) to reopen litigation on the Trump Administration's 2019 Public Charge Rule. That lawsuit, Cook County, Illinois et al. v. Mayorkas et al., was filed in the Northern District of Illinois in 2019 and invalidated the Trump administration's 2019 public charge rule.
Legal Council for Health Justice along with Shriver Center on Poverty Law, National Housing Law Project, and Sidley Austin LLP brought that case on behalf of the Illinois Coalition for Immigrant and Refugee Rights (ICIRR). And the Cook County State's Attorney's Office and Goldberg Kohn brought the case on behalf of Cook County.
Q: Can you explain more about this underlying case and its significance?
A: The underlying case began back when the Trump Administration dramatically expanded the longstanding definition of 'public charge.' For over 100 years, the interpretation of the public charge ground of inadmissibility meant a person who "is likely to become primarily dependent on the government for subsistence." Under this longstanding immigration policy, federal officials could deny entry visas into the U.S. or adjustment to lawful permanent resident (LPR) status (aka "a green card") to someone determined to be a "public charge". This public charge test only covered two kinds of public benefits — cash assistance programs (like TANF or SSI), and long-term institutional care (meaning, nursing home care) at the government's expense.
However, the 2019 Trump Administration's Rule broadened the scope, and penalized even use of a small amount of public benefits for a very short period of time. This caused widespread fear or chilling effect in the community, and made people worry that any use of public benefit programs was risking future green card status.
In the case we co-counseled, we were able to demonstrate that the Trump Administration's rule was arbitrary and capricious. As a result, the Northern District of Illinois district court vacated the 2019 rule nationwide.  After the Biden administration dropped its defense of the Trump administration's 2019 public charge rule, the rule was officially rescinded and the case was dismissed.
Q: What does this mean for immigrant communities?
A: It's a huge relief that litigation involving the 2019 Rule is over. And, thankfully, last year, the Biden administration issued a new public charge rule that is now in place. The Biden public charge rule largely restores the public charge policy that was in place for decades before the Trump administration caused fear and confusion. I would say that the combination of the Trump rule litigation having ended and the new Biden rule being in place is a win for immigrant families and everyone in our communities because it clarifies what benefits are counted under the public charge test. This clarity is really good because people can make informed decisions about healthcare, food, housing, and will not abstain from the benefits they're eligible for out of fear of the public charge test.
Q: So, is this the end of the story?
A: Well, not exactly. Earlier this year, Texas filed a new lawsuit on public charge, this time challenging the Biden administration's public charge rule. But there are solid grounds for a court to uphold the Biden rule against Texas's allegations. Unlike the Trump administration's rule, the new Biden is consistent with a century of policy and practice and was laser-focused on reducing the chilling effect, where people avoid using benefits they're entitled to out of fear that it could affect their immigration status. We will monitor the lawsuit and will be providing information if anything changes. So while our fight is different, it continues. We will always have to fight for fair and welcoming policies for our neighbors, and public benefits to support our communities' needs.