Policy Update: Bill Making Medicaid More Equitable Goes to Governor's Desk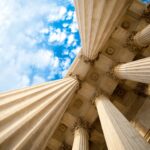 As the Illinois legislative session comes to an end, Legal Council is taking a moment to reflect on and celebrate achievements made toward health equity through legislation. We worked persistently alongside our partners in the community, and our legislative champions in the House and Senate, to pass House Bill 4343. The bill is on its way to Governor Pritzker's desk to be signed. 
HB4343 is a landmark piece of legislation that eases the burden on older adults and people with disabilities on Medicaid through the following provisions: 
Reform of Estate Recovery and Liens 
The prospect of Medicaid liens (i.e., legal claims against one's home) and estate recovery has long dissuaded eligible individuals from enrolling in Medicaid for fear of losing their home. Furthermore, the burdens of estate recovery fall disproportionately on families of color with low incomes. HB4343 eases these burdens by ending mandatory liens on nursing home residents' homes, and adopting a cost-effectiveness threshold before the State will pursue recovery. The State will not recover from estates with less than $25,000, and will waive recovery of the first $25,000 across the board. HB4343 also requires HFS to post easy to understand consumer information about estate recovery and exemptions, in multiple languages, on its website. 
Expanded Medical Coverage to Age 42+ Regardless of Immigration Status 
An initiative of our partners in the Healthy Illinois Coalition, HB4343 makes another historic and pivotal step towards health justice by expanding Medicaid look-alike coverage to individuals ages 42 and older with low incomes, regardless of immigration status. Illinois is a leader on comprehensive health coverage for immigrants, offering Medicaid look-alike coverage to low-income adults over the age of 55 regardless of immigration status. This bill now expands coverage to anyone aged 42 and older. Enrollment will begin July 1, 2022, and we estimate that around 27,000 individuals will be eligible for coverage. While there are still huge strides to be made towards expanding equitable health care to immigrants and their families, HB4343 is certainly a significant step in the right direction.  
Continuous Eligibility 
HB4343 requires Illinois Medicaid to ease the interim income reporting requirements that inadvertently cause individuals to experience gaps in Medicaid coverage between annual renewals. HB4343 requires the State to pursue federal approval for continuous Medicaid eligibility for adults, so they remain eligible for Medicaid for 12 months even with fluctuations in monthly income. This allows for continuity of coverage for many low-income workers whose hours and income change seasonally or fluctuate month-to-month.  
Ex Parte Redeterminations for AABD Participants 
HB4343 also reduces the risk of coverage gaps due to failed redeterminations by including Medicaid's Aged, Blind and Disabled (AABD) participants in the ex parte renewal process. Ex parte renewal is the State's process of verifying ongoing Medicaid eligibility through electronic data sources without requiring that a form be returned by enrollees. For years, older adults and individuals with disabilities in the AABD program have been excluded from ex parte and forced instead to submit hard copy forms received through the mail.  HB4343 requires ex parte processing for this population, which reduces the risk for failed redeterminations due to lack of access to technology or problems with mail. 
Streamlined Access to Medicare Savings Programs (MSPs) 
This bill also has the possibility of saving older adults and people with disabilities hundreds of dollars in out-of-pocket Medicare costs through streamlining applications for Medicaid Savings Programs (MSPs). MSPs pay out-of-pocket costs for the Medicare program, allowing low-income individuals to use the money they are saved for other critical expenses, like housing and food. By requiring the state to investigate how to align MSP eligibility criteria with the established federal Low-Income Subsidy Program (LIS), HB4343 reduces paperwork demands and makes MSPs easier to access and enroll in.  
Legal Council extends a huge thank-you to our partners and bill sponsors for their tireless work to help make these improvements possible. We extend our sincere thank you to our partners in advocacy: Heartland Alliance, Shriver Center on Poverty Law, AIDS Foundation of Chicago, Aunt Martha's Health & Wellness, Age Options, and many others.  
We are encouraged by the commitment Illinois has made through HB4343 toward making medical coverage less burdensome and more equitable for older adults, people with disabilities, people of color, and immigrants. These changes help us all, as our communal health is intertwined. We have much work to do to achieve health justice for all, but we are motivated by the state's continued momentum, and we take this brief moment to thank everyone in our broad coalition for their work on HB4343.