Views expressed in this blog belong to the respective author unless otherwise specified.
For inquiries about guest writer opportunities, contact Dani Hunter at dhunter@legalcouncil.org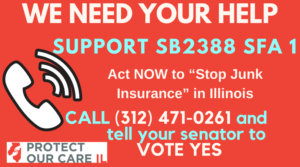 Quality and affordable health insurance should be available to every Illinoisan and every American citizen, full stop. Unfortunately, this notion is being challenged by pending federal regulations that could result in a large expansion of the number of short term plans offered to hardworking Illinoisans. Short term plans differ from other health insurance plans; their long lists of what is not covered leaves many consumers with expensive medical bills. Plans sold in Illinois can exclude coverage for preexisting conditions, prescription drugs, hospital room and board on a weekend, and treatment for mental and health or substance abuse disorders.
Read More