World AIDS Day: Living With HIV in 2020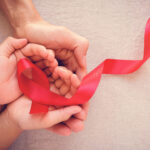 Guest blog by Jessica Rhoades, Legal Council's Senior Staff Attorney serving with our HIV Program.
The word "unprecedented" has been intrinsically tied to descriptions of 2020. For many of our clients, the start of this pandemic and the ensuing months echoed the early years of the HIV/AIDS epidemic. To be clear, the two crises are not the same. However, the initial lack of data, the government-led disinformation, fear, isolation, and loss struck similar notes for many. Unfortunately, experience in crisis does not create immunity from future harm. 33 years since Legal Council began, COVID-19 is now causing cascading chaos in many of our clients' lives.
Legal Council began in 1987 as AIDS Legal Council of Chicago, when one young attorney saw the urgent and unique challenges faced by those who were HIV positive, and the lack of legal support available to them. In response, Legal Council dedicated itself to providing free one-on-one legal help, education for the community, and public policy advocacy to advance justice. By 2020, one would hope that our work fighting stigma and discrimination based on HIV status would be long over. Sadly, it is not. The HIV Program's legal team will keep fighting, though, until the stigma and discrimination is ancient history. 
Additionally, over the decades Legal Council has honed a specialization in unwinding bureaucratic nightmares, which never seem to go out of vogue. We capitalize on our longstanding work with benefits programs and other bureaucracies  to make sure our clients are not left high and dry when crisis hits.
Take for example Joe, who lost his job in April along with his employer-based insurance. Because of his small savings, he did not qualify for Medicaid and worried about how he would refill his HIV medications in May while paying rent. Joe contacted Legal Council and we quickly assisted him with purchasing health insurance through the Marketplace and enrolling in a state-funded subsidy to pay for his premiums and copays. We linked him to housing assistance and made sure his unemployment benefits, though delayed, eventually came through. We also made sure his Power of Attorney for healthcare was updated to reflect his wishes just in case the worst were to happen.
Unfortunately, COVID-19 has forced us to change one aspect of our work that we have always cherished—meeting our clients in-person, in their communities. Necessity has cultivated creativity and resulted in new solutions, such as a day of estate planning meetings that took place in a Howard Brown Health Center parking lot. Wills and Powers of Attorney were executed and our clients' final wishes protected without the risk of meeting indoors. Through technology and creativity, Legal Council is still there for our clients and communities, facing COVID-19 together.
Legal Council's HIV Program is proud of and encouraged by the advances in legal protection for those living with HIV/AIDS. Likewise, we are heartened by the gains in health equity since the 2010 adoption of the Affordable Care Act. However, we operate with the awareness that there is significant work left to be done. Many of our society's systems continue to exclude, discriminate, and marginalize. We recommit ourselves to our work of decades and to finding new ways to advocate for health and dignity for all.