The Invisible Disability: Supporting Mental Health Needs for Students with Disabilities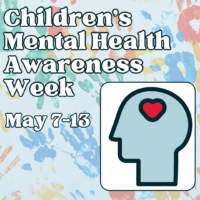 Understanding Mental Health Needs for Youth
It is Children's Mental Health Awareness Week (May 7-13), and it is an important time of year to bring awareness to this vital issue, as mental health is essential to the healthy development of children. Legal Council for Health Justice believes it is imperative to shine a light on the unfortunate reality that many schools deny basic support to students with mental health disabilities. These disabilities are often overlooked because they are "invisible", and students who struggle with them may not receive the help they need to succeed in school and beyond. According to the CDC, "[M]ental health includes children's mental, emotional, and behavioral well-being. It affects how children think, feel, and act. It also affects how children handle stress, relate to others, and make healthy choices."
While the pandemic posed unique challenges for youth and adolescents, a report by the U.S. Surgeon General, Dr. Vivek H. Murthy, noted that mental health crises had already been on an upward trajectory. Between 2013 and 2019, ADHD and anxiety were amongst the most common mental health disorders for kids between the ages of 3-17, affecting 1 in 11 children. Furthermore, more than 1 in 5 youth aged 12-17 had experienced a depressive episode.[1] These statistics prove schools must provide essential support to meet the ever-increasing needs of our nation's youth in order for students to access an education.
There are several suggested reasons for the sharp increase in child mental health needs. One popular suggestion is the rise of social media, but the findings are contradictory and conclude that some adolescents are more vulnerable to adverse mental health effects than their peers with increased screen time.[2]  The U.S. Surgeon General noted in the report that the pandemic likely intensified already increasing feelings of stress in young people by destabilizing and altering children's homes, schools, and communities. The pandemic brought a profound amount of death, economic instability, and physical distancing from friends and loved ones. Moreover, there is a shortage of specialists who can properly assess and treat students with varying mental health disorders.[3] Indeed, Dr. Murthy recommended that school districts expand the school-based mental health workforce by using local, state, and federal resources to hire additional school counselors, social workers, nurses, psychologists, and dedicated staff to support students with disabilities.[4] The burden of ensuring that youth receive care, particularly those with social or emotional disorders, primarily falls on their caretakers but public education also has an obligation to provide appropriate services for a child's unique needs.
Legal Council's Policy Analyst, Barbara Cohen (she/her) summarizes the importance of addressing mental health needs —
"So many of our students experience mental health challenges—sometimes due to emotional disabilities, often due to trauma, but also often due to the anxiety and depression that arises from not receiving the educational supports they need to succeed academically and within the school environment. Schools are the one environment that all kids can access, so schools are a critical place to offer social work and psychological services as part of special education and 504 accommodations."
Addressing the Need
Legal Council for Health Justice's Children & Families project (CMLPC) advocates for the rights of children with social and emotional disabilities who are legally entitled. In the past year, Senior Staff Attorney, Sarah Hess (she/her), has demonstrated exceptional advocacy skills by securing additional support for three children with social and emotional disabilities.
Jackson* was a high school student who qualified for special education related to a chronic cardiac condition, ADHD, and depression. He was beginning to receive improved services through his Individual Education Plan (IEP) to ensure he was thriving in his new school. However, another student bullied and injured Jackson as part of a social media challenge, which worsened his depression to the point of suicidal thoughts. His mother shared this heartbreaking story with our legal team and described her son's feelings of helplessness and fear. He was terrified to return to the school setting and reencounter his bully. Sarah advocated for a safety plan that ensured Jackson's bully would not be able to have any contact with him in the hallways or the lunchroom. In addition, Jackson began receiving social work services at the high school. This case exemplifies how important it is for a child with disabilities to receive special considerations that address their mental health concerns and stressors. While bullying is a sad reality for many students, it is essential to acknowledge that diverse learners are at greater risk of being bullied than their peers.[5]
In another instance, Sarah assisted a student suffering from persistent physical health symptoms that were worsening her mental health symptoms. Mariana* was struggling with gastrointestinal problems, which only exacerbated her anxiety about being in a school environment. She feared that she would not be able to make it to the bathroom when needed, which intensified to the point where she stopped attending class in person. Despite having a 504 Plan, the administration at her school was not enforcing the accommodations that may have helped her remain in attendance, only worsening her chronic absenteeism.  In an act of disability discrimination, the school district filed a truancy case against her family for not forcing her to attend. If the family lost at the hearing, the case would be referred to the state's attorney for criminal prosecution. Sarah filed a demand letter arguing that truancy law does not apply to students with valid absences and that Mariana's doctors repeatedly explained her absences were a result of her disability and therefore valid. The district withdrew the truancy hearing. Additionally, she emphasized to the school the importance of the 504 Plan and improved its modifications (like shortened assignments) so that Mariana could succeed in her classes even while she was not physically in school. Moreover, Sarah assisted in making sure Mariana would receive Homebound Instruction intermittently for the days she was too sick to attend. Because of these efforts, Mariana felt supported academically and began to catch up in school. This case illustrates the importance of collaboration between our legal advocates, medical providers, and school teams to address the complex needs of students with disabilities.
In a final case example, Sarah successfully advocated for a school transfer for Ariel*. Ariel had a 504 Plan with accommodations to support her learning while she struggled with symptoms of her eating disorder, depression, and anxiety. However, Ariel began to feel traumatized by a sexual assault that had occurred while in her high school environment. She had anxiety attacks at the thought of entering the building and did not feel comfortable attending anymore. Her medical providers attempted to advocate to the school and made recommendations to modify her 504 Plan. Nevertheless, when our legal team became involved, it was clear she could not return or slowly reintegrate into her current high school. Through diligent legal advocacy, Sarah successfully enrolled Ariel in another school where she could receive appropriate 504 supports. This multidisciplinary approach was what Ariel needed for her unique mental health.
Conclusion
Legal advocacy in school environments is critical for children with mental health disorders because it is often the only way to receive the necessary accommodations, services, and supports to succeed academically. Schools often fail to understand or accommodate these "invisible" disabilities. The legal framework governing education for students with disabilities, including mental health disorders, is complex, and navigating it is challenging for families and educators alike. Legal advocates help families understand their rights and assist families in enforcing those rights.
Legal advocacy can also help address systemic issues like schools that marginalize or mistreat students with mental health disorders.
Legal Council relies on individual representation to inform our policy efforts, impact litigation, and systemic enforcement to support the mental health needs of all students.
—
[1] Tingley, Kim. "There's a Mental-Health Crisis among American Children. Why?" The New York Times. March 23, 2022. https://www.nytimes.com/2022/03/23/magazine/mental-health-crisis-kids.html#:~:text=More%20than%20one%20in%20five,crisis%2C%E2%80%9D%20says%20John%20T.
[2] Hughes, Virginia. "Does Social Media Make Teens Unhappy? It May Depend on Their Age". The New York Times. April 06, 2022. https://www.nytimes.com/2022/03/28/science/social-media-teens-mental-health.html.
[3] Ritchel, Matt. "Surgeon General Warns of Youth Mental Health Crisis". New York Times. December 07, 2021. https://www.nytimes.com/2021/12/07/science/pandemic-adolescents-depression-anxiety.html.
[4] Office of the U.S. Surgeon General (OSG). Protecting Youth Mental Health: The U.S. Surgeon General's Advisory. US Department of Health and Human Services. pp. 20-21, 2021. https://www.hhs.gov/sites/default/files/surgeon-general-youth-mental-health-advisory.pdf.
[5] Assistant Secretary for Public Affairs (ASPA). "Bullying and Youth with Disabilities and Special Health Needs." StopBullying.gov. July 21, 2020. https://www.stopbullying.gov/bullying/special-needs.