Staff Spotlight: Caroline Creed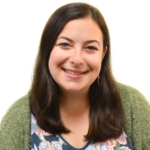 Staff Spotlight is a blog series featuring a member of Legal Council's expert and ever-growing team. Today's Spotlight features Caroline Creed, our new Homeless Advocacy Specialist. 
What brought you to Legal Council?
This year I am participating in a year-long service program called Avodah. When I was accepted into Avodah in the spring I was able to apply for a variety of non-profit positions throughout Chicago. I was drawn to the Homeless Advocacy Specialist role at Legal Council because I felt it gave me the opportunity to explore the structures our society has in place to deal with poverty and homelessness. At the same time, I am able to work on a team that takes concrete steps to improve the lives of people suffering due to gaps in those structures.
What does your program do and who do you serve?
The homeless outreach program works with people who are homeless and are also dealing with a mental illness. Our goal is to maximize their income through social security benefits, mostly Supplemental Security Income (SSI) and Social Security Disability Insurance (SSDI). My role involves a range of both client-facing and behind-the-scenes legal work. For example, I may accompany a client to file their application for benefits, fill out follow-up paperwork with them, collect and send in clients medical records, etc.
What are you most excited about with your new role?
First, I am incredibly excited to get to learn and work with the Homeless Outreach team all year. They are intensely dedicated to their clients and extremely knowledgeable about a wide range of issues. Second, I am excited to contribute to a process that leads to a tangible outcome for people who are trying to navigate a complicated system and enduring severe hardship in the process.
What were you doing before you joined Legal Council?
In May, I graduated with a degree in linguistics from the Ohio State University. Over the summer I was still living and working in Columbus, Ohio and enjoying time with friends before my big move to Chicago.