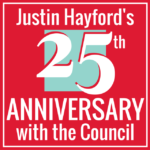 On May 5, 2016, our esteemed colleague Justin Hayford, who has been working at the Council for 25 years, was presented with the Liberty Bell award by the Young Lawyers Section (YLS) of the Chicago Bar Association as part of its annual Law Week celebration. It is the highest honor that the CBA bestows on a non-lawyer.
Justin recently penned the best letter we've ever read to encourage participation in a 25-for-25 campaign to sustain what has been his life's work and pay tribute to his years of service.
Justin also gave this powerful speech at the Liberty Bell reception. We share it with you to give you hope, context, and inspiration. Congratulations Justin. It is an honor to work with you!
Let me describe to you the first image produced in western culture of the syphilitic.  I realize this is not the kind of subject typically discussed at fancy cocktail receptions, but bear with me.  I do have a point.

The image was created in 1496 by renowned German artist Albrecht Dürer.  It shows a man standing on a tiny spit of land, just big enough to hold him.  He's surrounded by an expansive wasteland.  Far in the distance is a town, from which one assumes he's been banished.  He stands displaying his lesions for the viewer.  He is dressed extravagantly, topped with a great floppy hat and grand feather plume. To the German of his day he was instantly recognizable as the prototypical French fop, an effeminate man given to sexual deviance and excess, thereby bringing this plague upon himself.  To drive that point home, above him is a depiction of the recent astrological convergence of Scorpio, the sign that rules the genitals.

Why am I describing this image to you?  Because when I was offered the job at AIDS Legal Council back in 1991, I thought a lot about the man in this picture.  He'd been created 600 years previously, but he may as well have been a Person With AIDS in 1991, at least as depicted in mainstream culture: a sexual deviant who's brought an illness upon himself, who must be banished, and who is no longer a person but merely a warning to "the rest of us."  There it was, the end result of six centuries of sustained cultural effort to link sex, illness and blame.  I realized that countering these destructive cultural narratives would require great sustained effort in the opposite direction.  This would not be a job I would dally in.  If I were to accept the position, it could well become my life's work.

Of course there are a number of other problematic cultural narratives – about race, gender, poverty, homeless, drug abuse, mental illness – all of which interest in the AIDS epidemic.  All of which turn a medical problem into a political crisis.  And all of which dampen the effectiveness of our collective response.

And when it comes to working to correct six centuries of malicious cultural programming, our collective response is everything.

Michael Callen, one of the founders of the National Association of People with AIDS, once said, "Only politics will cure AIDS."  This sounds odd to our ears.  We believe science will cure AIDS.  Medicine, a vaccine will cure AIDS.  But what if the cure for AIDS existed today, and it was readily available?  What if the cure for AIDS was one clean glass of water?  As I've said many times during my 25-year career, if the cure for AIDS was one clean glass of water, think how many millions of people on the planet couldn't get it.  It's not for lack of scientific knowledge; we know precisely how to ensure that water is potable.  It's simply a lack of political will.  The will to make it a priority that everyone on earth have access to clean water.  The will to believe that everyone is equally deserving.

Only a sustained, collective effort can meaningfully sway our political will.  I've been fortunate to work with colleagues, both at my agency and in other communities, who are committed to this sustained effort.  And one of the communities that has been the most reliable has been the legal community.  I can't tell you how much legal professionals have given over the years – not just financial contributions, which are critical, but contributions of time and talent.  Finding attorneys to work with us and represent our clients for free has never been difficult, even in the early days, when being associated with HIV could be career suicide.  Can you imagine being a partner at a big law firm back then and announcing that you're representing a person with AIDS?  But that happened, repeatedly, without hesitation.  It's a testament to the deep strain of duty that runs through the legal profession.

So I'm particularly honored that this award is given to me by the legal community, because it's a community I highly respect. So I thank the Chicago Bar Association for this very meaningful award.  And I must thank Kevin Mork, development director at the Legal Council for Health Justice, for nominating me.

The greatest thing I take from this award is encouragement.  Encouragement to keep at it.  And I'd like each of you to take some of that encouragement with you as well.  Because without the legal profession, we'll never see a world where true social justice is the daily lived reality for everyone.
Please share this speech and Justin's incredible 25-for-25 letter today. It is our honor to serve.