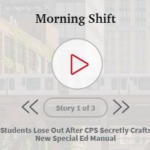 First in a series of investigative reporting from WBEZ reveals the Chicago Public Schools overhauled special education and relied on a "secret" set of guidelines "that resulted in limiting services for special education students, services like busing, one-on-one aides, and summer school."
Our child health policy leader Amy Zimmerman is quoted extensively. Some excerpts below. Read the entire article here, or listen to the audio below. Our advocacy is featured at about 9:09.

Amy Zimmerman, director of the Chicago Medical-Legal Partnership for Children, said her phone was ringing off the hook all summer and fall from parents panicked that their disabled children would no longer get bus rides to school.

Many parents had young children who were placed in special preschools far from their homes, and they had no way to get their children there, she said.

Zimmerman said she felt blindsided by the whirlwind of complaints.

"We didn't know where it was coming from," she said

Zimmerman said she eventually learned that CPS had overhauled its guidelines and created the secret manual. She said creating a manual for special education is not necessarily a bad idea. Written with the help of special education lawyers and parents, it could help standardize practices and create more parity in services across the city. Getting the right help for a student often can depend on the insistence and persistence of the parent and the school staff, she said.

District officials defended the manual's development, saying CPS central office staff drafted it. But Zimmerman said CPS did not work with parents, school staff, and the city's special education lawyers who she says best know the realities of working on special education inside the city's schools. The changes they instituted meant some kids lost services they had relied on in the past and, in some cases, were legally entitled to, she said.

The manual, for example, prohibited disabled preschoolers from getting bus service, Zimmerman explained.

"The policy was inappropriate and frankly illegal," she said.

She and some parents went public with their complaints. At a Chicago Board of Education meeting in September 2016, Claypool said he had listened to advocates and would allow preschoolers to take the bus.

But Zimmerman said she fears many parents who had been told there was no busing to special education preschools had already decided by then not to enroll their children.