Illinois Amends School Code, Improves Rights for Special Education Students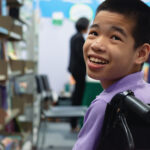 Governor Pritzker has signed into law an amendment to the School Code that would enhance the rights and involvement of parents in special education decisions for their children. This bill was crafted by Legal Council advocates in coordination with our colleagues in other advocacy organizations.
These changes passed in an education omnibus bill (SB 1569) include:
Beginning July 1, 2020, copies of all written materials that will be considered by the IEP team will be made available to parents. Parent can choose from available methods of delivery. Mail and school pick-up must both be options.

For an eligibility meeting, written materials include "all evaluations and collected data that will be considered at the meeting."
For an IEP meeting, written materials include "all IEP components that will be discussed other than the components related to educational and related service minutes."

Parents must be notified of their right to review and create copies of their child's school student records.
The Local Educational Agency (LEA) must make available records of the delivery of related services and minutes of each type of related service that was administered. Related services include occupational and physical therapy (OT/PT), nursing, counseling, and social work.
For services not implemented within ten days after the service was supposed to be initiated per the IEP, the parent is notified of non-implementation within three school days and must be told the procedures for requesting compensatory education services.
MTSS (Multi-tiered system of supports) components are delineated, and parents must be notified that the school is providing additional support through MTSS.
Thank you to SB 1569 Senate sponsors (Senators Bertino-Tarrant, Lightford, Martinez, Manar, and Collins) and the House sponsors (Representatives Davis, Stuart, Scherer, Manley, Hurley, Kily, Greenwood, and Ammons) for putting the needs of Illinois students first. Thank you also to Rep. Crespo and Sen. Koehler, sponsors of the original legislation.  And finally, thank you to our partners at Access Living for their shared effort on behalf of this legislation.