Legal Council Advocates VS. CPS Special Education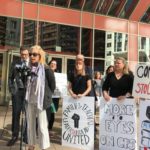 After a public inquiry team, led by the Illinois State Board of Education, spent the last five months investigating Chicago Public Schools' Special Education policies and practices and found significant and unnecessary delays and denials in services, the Board voted Wednesday to approve an independent monitor to oversee CPS as it works to implement changes.
This news also comes after a survey crafted by Legal Council & other Special Education advocates identified devastating delays, denials and roadblocks in providing Special Education services to CPS students. More than 2,200 people responded to the survey, including teachers, parents, and school administrators.
45% of all survey respondents reported cases where students' required aides were denied, due to "insufficient student data," or a representative did not attend a meeting to finalize the student's Individualized Education Plan--which is a violation of federal law.
95% of teachers and more than 90% of administrators claimed they did not receive training on a new "revised" CPS Special Education manual, contrary to statements from former-C.E.O Forrest Claypool
46% of parents stated their child was not receiving the services as outlined in their IEP in this school year
In the same question of whether services were being provided to their child, 22% of parents said they were unsure.
"This survey conducted over only two weeks time magnifies the depth of the violations of children's rights and the extent to which CPS fails to engage stakeholders," Legal Council for Health Justice managing attorney Amy Zimmerman added. "Over 1,400 anonymous comments bolster the need for whistleblower protections along with accountability." - "New survey shows CPS special ed problems continue despite ISBE probe"
While an independent monitor to CPS' Special Education programs is a good first step in addressing these issues, Special Education Legal Advocate Barb Cohen stated at Wednesday's hearing that ISBE requires "21 tasks [that] can't be achieved by one monitor."
On Wednesday, our child health program director Amy Zimmerman sat down with WTTW's Chicago Tonight to talk about the announcement:
"We cannot change this culture or practice at CPS without robust supports," said Amy Zimmerman of Legal Council for Health Justice, "and that's going to require a significant amount not only of monitoring and ensuring compliance with the remedies that ISBE has put forth, but there's also a requirement for a lot of technical assistance that they're going to need."