Illinois Supreme Court Vindicates Rights of Nursing Home Residents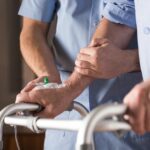 November 25, 2019
STATEMENT: Illinois Supreme Court Vindicates Rights of Nursing Home Residents
On Thursday, November 21, the Illinois Supreme Court issued a decision upholding the rights of residents facing an involuntary transfer or discharge from their nursing homes. Legal Council for Health Justice joined Legal Aid Chicago and Equip for Equality in an amicus brief championing the rights of nursing home residents in a lawsuit chiefly between the Illinois Department of Public Health (IDPH) and a private nursing home company.
The court took notice. The Court adopted the outcome the amici and IDPH advocated, issuing a decision that puts the rights of residents at the forefront. The court's decision repeatedly referenced the touchstone case on due process rights for recipients of public benefits, Goldberg v. Kelly. The case was not discussed in either party's brief but was raised by the amici. The Court's ruling highlighted the importance of a discharge timeline that allows nursing home residents the opportunity to be heard at a meaningful time and in a meaningful manner in compliance with Goldberg v. Kelly.
The Supreme Court decision is Lakewood Nursing & Rehab. Ctr., LLC v. Dep't of Pub. Health, 2019 IL 124019.
###
Legal Council for Health Justice uses the power of the law to secure dignity, opportunity, and well-being for people facing barriers due to illness and disability. All programs partner with health and hospital systems to train and support the care provider network, provide direct representation to referred patients, and conduct systemic advocacy to promote health equity among populations facing chronic, disabling, and stigmatizing health and social conditions. legalcouncil.org