STATEMENT: Advocates Appeal to Illinois Supreme Court on Rights of Nursing Home Residents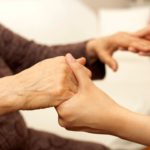 March 15, 2019
STATEMENT: Advocates Appeal to Illinois Supreme Court on Rights of Nursing Home Residents
On Wednesday, March 13, a coalition of organizations submitted an amicus brief to the Illinois Supreme Court urging the reversal of a 2018 appellate court decision that undermines the process designed to protect the rights of nursing home residents facing involuntary transfer or discharge. The appellate court's decision severely shortens the time in which involuntary transfer or discharge hearings must take place, effectively nullifying resident protections guaranteed by state and federal law. The appellate court's decision also violates the established law and practice that a pending Medicaid application stays an involuntary discharge proceeding. The coalition raised the concern that this decision would harm innocent applicants caught in the state's ongoing massive and unprecedented Medicaid application delays. According to an article in the Chicago Sun-Times, in June 2018 more than 15,000 nursing home residents faced significant and unnecessary delays on their Medicaid applications.
Legal Council for Health Justice joined LAF and Equip for Equality in advocating for the Illinois Supreme Court to restore the rights and process guaranteed to Illinois nursing home residents.
The appellate court decision is Lakewood Nursing & Rehab. Ctr., LLC v. Dep't of Pub. Health, 2018 IL App (3d) 170177.
###
Legal Council for Health Justice uses the power of the law to secure dignity, opportunity, and well-being for people facing barriers due to illness and disability. All programs partner with health and hospital systems to train and support the care provider network, provide direct representation to referred patients, and conduct systemic advocacy to promote health equity among populations facing chronic, disabling, and stigmatizing health and social conditions. legalcouncil.org