Chicago's Humanitarian Housing Crisis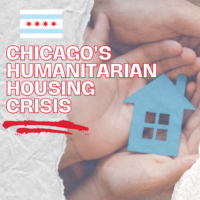 People are on the streets right now in numbers that it is impossible to ignore. Chicago, like many other cities in the United States, not only faces significant and long-standing challenges surrounding homelessness, but we are also struggling to adequately support newly arriving immigrants, further highlighting these challenges. Legal Council's Homeless Outreach Project staff have decades of experience working with unhoused people in Chicago and know well that the shelter needs of new arrivals do not create a crisis, but merely bring an existing one into the spotlight.
Each year, the Chicago Department of Family and Support Services (DFSS) creates a tally of residents that are experiencing homelessness in shelters, encampments, and on the streets. The Point-in-Time (PIT) Count follows the HUD methodology of taking a one-night snapshot of the number of these individuals. Despite experts' belief that the PIT is likely an undercount (because it is not an estimate of the total number of people that experience housing instability, but tracks only shelter/street homelessness), the PIT remains the primary main metric by which we calculate homelessness. The 2023 PIT documented 6,139 individuals experiencing homelessness – 5,149 people residing in shelters and 990 residing on the street or other uninhabitable locations. As we know, affordable housing options are scarce. According to the Chicago Housing Authority's Fiscal Year 2023 Report, there are over 200,000 people on the CHA waiting list, which spans from 6 months (for senior housing) to up to 25 years (for a non-senior unit).[1]  We also know that there are currently about 10,000 asylum seekers – many of whom were bused from Texas in an ongoing political stunt by Governor Greg Abbott—most of whom are unhoused and many of whom are not in this year's PIT.[2]
Chicago's current response to the housing crisis is troubling. We have watched a deeply divided City Council struggle to approve the reallocation of $51 million for services to address the crisis through the month of June. The debate devolved into toxic arguments pitting one group against the other. [3] Also concerning, lack of shelter options means a growing number of migrants have been forced to temporarily stay in police station lobbies. Police stations have long served as interim waiting areas for individuals experiencing homelessness before they can be placed in shelters; however, the severe lack of space in shelters in Chicago has meant migrants have been staying for longer than is typical.[4]
Furthermore, the conditions individuals experience in temporary shelter spaces, which are not meant for human habitation, can exacerbate illness or be health harming. It exposes people to various health hazards like communicable diseases, high levels of stress, and malnutrition. It also may pose challenging to easily treat chronic health conditions like diabetes, asthma, and high blood pressure as a temporary shelter may lack space to properly store medications. The lack of suitable shelter also contributes to the development or worsening of behavioral health conditions, such as depression, anxiety, PTSD, and substance use disorders, as the overwhelming stress takes a toll on their mental health.[5] The Chicago Department of Public Health's medical director, Dr. Geraldine Luna, explained that part of the city's response to the arriving migrants has been to screen individuals for conditions as a public health measure. However, the demand is high and so there have also been teams of volunteer medical students with attending and resident physicians donating their time to visit the stations to triage cases and provide care.[6]
The city has opened twelve temporary shelters throughout Chicago, including in colleges and community centers; nevertheless, the shelter capacity remains limited and the city's denial of access to reporters in spite of concerns about moldy food, limited access to medical care, no hot water for showers, and expressed isolation from volunteers is disconcerting.[7]
Building a Better Future
The migrant crisis in Chicago highlights the urgent need for increased support and resources to address shelter needs for all who need it, and safe, affordable housing for all. It is crucial for city and state officials to continue to collaborate with community organizations and federal agencies to develop sustainable solutions. Infrastructure development and access to essential services such as healthcare and education must be priorities. By investing in long-term solutions, adequate ongoing funding, and comprehensive support systems, Chicago can respond to the needs of anyone experiencing homelessness in the city and uphold its commitment to compassion and inclusivity. Legal Council will be fighting for this investment and for a civil discourse on resource allocation premised on the often used, but important, adage that a rising tide lifts all boats.
–
[1] Chicago Affordable Housing Wait Can Take Years as City, CHA Face Severe Shortage. ABC7 Chicago, 11 May 2023, https://abc7chicago.com/affordable-housing-chicago-cha-section-8-portal/13232375/#:~:text=According%20to%20the%20Chicago%20Housing,development%20and%20unit%20size%20needed.
[2] 2023 Snapshot of Homelessness in Chicago. City of Chicago. May 2023, https://www.chicago.gov/content/dam/city/depts/fss/supp_info/Homeless/2023PITCOUNT/2023%20PIT%20Count%20one%20pager%20FINAL.pdf
[3] Spielman, Fran. Divided City Council approves $51 million in migrant crisis funding. Chicago Sun-Times. May 31, 2023, https://chicago.suntimes.com/city-hall/2023/5/31/23743981/migrant-crisis-funds-chicago-immigrants-city-council-vote-homeless#:~:text=A%20divided%20City%20Council%20agreed,Chicago%20only%20through%20June%2030.
[4] Bosman, Julie. Open-Armed Chicago Feels the Strains of a Migrant Influx. The New York Times. May 15 2023, https://www.nytimes.com/2023/05/10/us/chicago-migrants-title-42.html.
[5] Homelessness & Health: What's the Connection? Fact Sheet, National Health Care for the Homeless Council, February 2019, https://nhchc.org/wp-content/uploads/2019/08/homelessness-and-health.pdf
[6] Gunderson, Erica. Volunteer Medical Students Work to Meet Health Needs of Migrants Arriving in Chicago. WTTW News – Health. 10 June 2023, https://news.wttw.com/2023/06/10/volunteer-medical-students-work-meet-health-needs-migrants-arriving-chicago
[7] Savedra, Madison. Migrants Report Moldy Food, Poor Treatment, Cold Showers At City-Run Shelters: "The Police Stations Treated Us Better", June 12, 2023, https://blockclubchicago.org/2023/06/12/migrants-report-moldy-food-poor-treatment-cold-showers-at-city-run-shelters-the-police-stations-treated-us-better/.