The Cycle of Health and Trauma: Behavioral Health Blog Series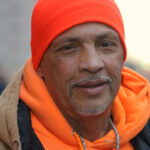 Legal Council for Health Justice's Behavioral Health Blog Series focuses on the lack of trauma-informed care available to Chicagoans facing mental and behavioral health challenges. This series was authored by Grace Moran and Rachel Roberts.
Legal Council's homeless outreach program has seen firsthand a vicious cycle play out in their clients' lives: A lack of behavioral health resources leaves them unable to house and generally support themselves, and the trauma of experiencing homelessness compounds mental health challenges, which makes accessing behavioral health services more difficult. Many of our clients are dealing with behavioral health challenges such as substance use disorders. In fact, according to the Substance Abuse and Mental Health Services Administration, at least 60% of people chronically facing homelessness are also dealing with mental illness.
"It is our experience that living with severe mental illness and experiencing homelessness are part and parcel of one another; you either work and have income and housing; or you cannot work and you are not housed," said Kate Miller, Senior Legal Advocate serving Legal Council's clients who are homeless. "What we witness is that living with a chronic, (and often) untreated severe mental illness makes it incredibly challenging to get and to keep a room to call your own. The inequalities that have been documented in morbidity and mortality rates in the COVID-19 pandemic have always been visible in the map of available mental health care; the racial disparities are especially glaring, with fewer services available in neighborhoods with primarily people of color. In our highly segregated city we can see the fault lines."
These overlapping disparities are well-documented. Accessible behavioral and mental health care are particularly scarce in neighborhoods that have higher rates of homelessness. For example, the waiting period for mental health services at Saint Anthony Hospital, a community health center on Chicago's west side, is approximately one year. When half of Chicago's public mental health clinics were closed in 2012, countless people were left without anywhere to turn for care. Advocates argue that the closures led to an increase in homelessness.
Take the story of one of our clients from this past year, Bryan. Bryan faced significant trauma early in his life, losing his parents and several of his siblings. He developed depression and schizophrenia, and without health insurance or anyone looking out for him, was never able to access the mental and behavioral health support he needed. He turned to alcohol and substance use to help him manage the symptoms of his mental health issues. Furthermore, because he never had the care he needed, he did not have documentation of a diagnosis, so he was rejected from receiving Social Security benefits until Legal Council's homeless advocates connected with him and helped him attain SSI benefits. Had Bryan had access to the health and housing support he needed, it's very likely he would have been able to support himself and would never have reached the point of crisis Legal Council met him in. 
The Housing is Recovery Act (HB 449), sponsored by State Senator Cristina Castro, was created with the intention of helping people like Bryan at high risk for "unnecessary institutionalization" due to mental illness or behavioral health issues such as substance use disorders. This bill would help individuals acquire stable housing through rent subsidies and require them to engage with a mental health provider, including home visits. Sen. Castro argues that the support offered by the Housing is Recovery Act will help Illinoisans "break the cycle of institutionalization for those struggling with mental health issues and addiction."
Legal Council's homeless advocates and our Behavioral Health Working Group filed witness slips, attended coalition meetings, and provided feedback for the Housing is Recovery Act, which was recently signed into law by Governor Pritzker in July 2021. Legal Council is glad to see the state of Illinois begin to recognize that the lack of support available for people facing serious behavioral health challenges too often results in homelessness, incarceration, or unnecessary, harmful institutionalization. 
However, we are aware there is much work left to be done. Far too many people still go without the care they need to live healthy, safe, and independent lives. We must continue pushing for the re-opening of the mental and behavioral health clinics that have been unfairly shuttered in Chicago, and we must increase accessibility to care so that all of us can reach our full potential.