Celebrating 33 Years of the Americans with Disabilities Act (ADA): Advancements, Impact, and the Future of Disability Advocacy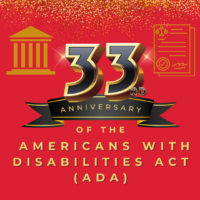 Thirty-three years ago today, the enactment of the Americans with Disabilities Act (ADA) marked a pivotal moment in civil rights history by cementing a profound transformation within the field of disability rights. For the 1 in 4 Americans living with disabilities[1], a federal and enforceable ban on disability discrimination in all aspects of public life is vital to ensuring a fairer and most just life for everyone. The ADA is critical to the work we do as the Legal Council. As we commemorate the anniversary of this landmark legislation, we want to take the opportunity to talk a little about the ADA's profound effects like increasing inclusion for people with disabilities, its effects on Legal Councils' mission to dismantle obstacles and foster empowerment, as well as to assess the areas that still need improvement.
Background
Leaders of the disability and rights movements, along with members of Congress and civil rights agencies, have long recognized the need for federal law to protect the rights of individuals with disabilities. The ADA was born out of the desire to build upon the advances made by Section 504 of the Rehabilitation Act of 1973, which identified people with disabilities as a protected class in discrimination cases but was limited because it applied only to programs that received federal funding. Advocates knew the importance of expanding rights to all areas of public life, including jobs, schools, transportation, and all public and private places that are open to the public. The National Council on Disability played a crucial role in advocating for this new law and the first version of the ADA was drafted in 1986 based on their recommendations. Over the years, a dedicated coalition of disability rights advocates, legal experts, and legislators worked tirelessly to develop and refine the ADA to ensure its passage. The influence of activist, Judy Heumann, in the development and passage of the ADA cannot be overstated. As one of the leading disability rights advocates, her dedication, passion, and leadership were instrumental in shaping the ADA and making it a robust piece of legislation. After intense negotiations and compromises in Congress, the ADA eventually  became law with President H.W. Bush signing it into law. [2]
The ADA's Impact on Legal Council
The ADA is critical to Legal Council's work in multiple crucial areas, notably special education accommodations, subsidized housing accommodations, and Medicaid advocacy. In the realm of special education, the ADA has played a pivotal role in ensuring that children with disabilities receive equal access to education. Through advocacy and legal representation, Legal Council has fought tirelessly to secure appropriate accommodations and services for students with disabilities, ensuring they can fully participate in the educational process and reach their full potential. In housing, the ADA's provisions have been instrumental in safeguarding the rights of individuals with disabilities, preventing discrimination, and ensuring equal access to housing programs and facilities. Legal Council's efforts have centered on holding housing providers accountable for providing reasonable accommodations to our clients with physical and mental health needs that impact their living arrangements. Additionally, in the complex landscape of Medicaid, the ADA is a guiding force, reinforcing the importance of providing accessible healthcare services to individuals with disabilities. Legal Council's advocacy has depended on the ADA to protect the rights of children with complex medical conditions needing nursing services to stay housed with their families. As we celebrate the ADA's 33rd anniversary, we are proud of the strides we have made in these areas, but Legal Council remains committed to advancing disability rights and creating a more inclusive and equitable society for all.
The limitations of the ADA
While the ADA has undoubtedly been a groundbreaking piece of legislation, it is essential to acknowledge that there are still shortcomings and unaddressed disability issues requiring continued advocacy. For instance, despite the theoretical promise of equality, the practical reality reveals limitations in the enforcement mechanisms designed to address discrimination three decades after the passage of the ADA. The prevalence of violations is still alarmingly high and disability-related complaints remain the largest category of complaints filed with federal agencies responsible for upholding fair housing and employment laws.[3]
Furthermore, the ADA has not effectively addressed historical inequities that have marginalized people. Children with disabilities still face educational disadvantages, they're more frequently disciplined and are overrepresented in the criminal justice system. Additionally, employment opportunities remain challenging and individuals with disabilities are still more likely to be unemployed and twice as likely to live in poverty.[4] Social Security benefit programs have restrictive eligibility requirements that oftentimes discourage individuals from working as much as they are able. And while people with disabilities and advocates have long pushed for policy changes, progress has been slow. However, a new generation of activists is pushing for more inclusive ideas about disability rights, and the COVID-19 pandemic has led to greater awareness of the need for accommodations and government support.
The Future of Disability Advocacy
The Legal Council remains steadfast in its dedication to bridging the gaps and ensuring the complete realization of disability rights in every facet of life. Our shared mission calls for a resolute focus on enforcing the ADA, fostering broader public awareness, and actively challenging ableism to foster a society that cherishes diversity and embraces inclusion. As we look ahead, let us renew our unwavering commitment to pursuing justice for all, amplifying the voices of those confronted with disabilities, and advocating tirelessly until every individual can fully engage in society without hindrance from barriers and discrimination. As we contemplate the history and the milestone that is the ADA, let it invigorate our determination in championing this vital civil rights cause.
–
[1] Welch, Ashley. 1 in 4 U.S. Adults has a disability, CDC says. CBS News. 16 August 2018, https://www.cbsnews.com/news/1-in-4-u-s-adults-has-a-disability-cdc-says/.
[2] ADA History – In their Own Words. US Department of Health & Human Services Office for Civil Rights.
[3] Abrams, Abigail. 30 Years After a Landmark Disability Law, the Fight for Access and Equality Continues. TIME. 23 July 2020, https://time.com/5870468/americans-with-disabilities-act-coronavirus/.
[4] Vallas, Rebecca. 7 Facts About the Economic Crisis Facing People with Disabilities in the United States. The Century Foundation. 21 April 2022, https://tcf.org/content/commentary/7-facts-about-the-economic-crisis-facing-people-with-disabilities-in-the-united-states/