STATEMENT: Nursing Home Residents and Coronavirus Relief Deposits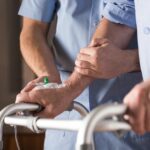 Today, the Illinois Department of Healthcare and Family Services (HFS) issued a directive to nursing homes and other long-term care facilities that the CARES Act stimulus payments are for residents' personal use and not to be treated as income.
HFS issued a Provider Notice that instructs LTC Facilities to consider CARES Act deposits the "personal funds of the residents." It further admonishes LTC Facilities not to collect the funds for a "group care credit," and not to treat the payments as income.
Legal Council supports efforts to ensure these payments are received and used by the individual residents who need them. Scams and unscrupulous actions seeking to deprive individuals of these payment can be referred to the Illinois Attorney General's office at https://illinoisattorneygeneral.gov/.
Legal Council also urges further action beyond a one-time rebate to boost economic security for older adults and people with disabilities, in this crisis and beyond.
Download this statement as PDF
###
Legal Council for Health Justice uses the power of the law to secure dignity, opportunity, and well-being for people facing barriers due to illness and disability. All programs partner with health and hospital systems to train and support the care provider network, provide direct representation to referred patients, and conduct systemic advocacy to promote health equity among populations facing chronic, disabling, and stigmatizing health and social conditions. legalcouncil.org