Staff Spotlight: Zoe Harris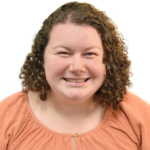 Staff Spotlight is a blog series featuring a member of Legal Council's expert and ever-growing team. Today's Spotlight features Zoe Harris, our new Children's Mental Health Advocate.
What brought you to Legal Council?
I came to Legal Council through Avodah, which is a year-long fellowship rooted in Jewish values around social justice and anti-poverty work. I live in a co-op with 15 other fellows (and a dog!), all of whom are working at different social justice-focused organizations throughout Chicago. That said, I was drawn in particular to Legal Council's children and family partnerships team out of a love for working with and for kids, and an interest in having a deeper understanding of the political and legal structures that impact children.
What does your program do and who do you serve?
As part of the children & families partnerships team, I primarily support Legal Council's partnership with the Sinai Health System, serving as a liaison between the medical and legal systems to promote child and family well-being and health justice. My work ranges from inputting referrals to conducting intakes to researching relevant city, state, and federal policies, and many little bits and pieces in between those tasks – all to the benefit of children who need legal support around education, housing, public benefits, or a different facet of their life. While I will be in the office most days, I am particularly excited to spend a couple days each week working on-site at Under the Rainbow at Mt. Sinai.
What are you most excited about with your new role?
I am excited to dive deeper into the political, social, and legal systems that shape children's education, mental health, and well-being more broadly, as well as to explore what I want to focus on career-wise in future years. I have spent a good amount of time working directly with kids in various contexts (e.g. as a camp counselor, tutor, teacher, and nanny), and I think that this role will provide me with an understanding of the greater structures that impact children – both how these structures are flawed but also how they can be used toward positive ends. And, of course, beyond merely gaining an understanding of these systems and structures, I am so eager to do what I can to help influence policy in a way that benefits individual cases and children throughout the city and state.
What were you doing before you joined Legal Council?
In the spring I graduated from Carleton College in Northfield, MN with a B.A. in Psychology and minors in Educational Studies and Women's & Gender Studies. I then traveled back home to California and spent the summer supervising counselors at a summer camp outside of Yosemite National Park, an incredibly beautiful space and one that is very special to me. I then had a quick turnaround and just moved to Chicago at the end of August!