Staff Spotlight: Stephanie Salgado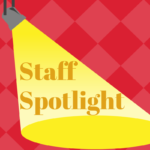 Legal Council just keeps growing! Over the last couple of months, we have welcomed over 10 new employees in our legal programs, development team, and administrative team. Legal Council has many exciting projects coming up, so we're taking the time to highlight the projects and our new team members in our new blog series "Staff Spotlight."
Today's spotlight is on Stephanie Salgado, our new Bilingual Outreach and Education Coordinator. Check out her current work with the children and families program and help us welcome her to the team!
What brought you to Legal Council?
After graduating with my bachelor's degree, I was eager to delve into the public health field so I decided to forego graduate school to enter the workforce. Right away I knew that my interest in Maternal and Child Health aligned well with the innovative work of the Children and Families program. In addition, after working in the clinical world for some time I knew I wanted to join an organization that had more of an 'upstream' approach, was interdisciplinary and social justice oriented. Legal Council's commitment to addressing the social determinants of health through a legal framework that addresses both individual needs and systems change definitely met and even surpassed those expectations.
What does your program do and who do you serve?
My project falls under the Children & Families program, a Medical Legal Partnership that works at the intersection of healthcare and legal advocacy to meet the social, medical and educational needs of children. We've been working on a one of a kind pilot project that aims to expand access to Early Intervention services for young children who have been exposed to lead in Illinois. As the Bilingual Outreach and Education Coordinator for this project, I work with families, social service providers and medical professionals to boost awareness of childhood lead exposure and the benefits of Early Intervention services to ultimately connect more children and families to these services. I create and disseminate educational materials, conduct training's and presentations about the pilot and establish new community partnerships or foster existing collaborations.
What are you most excited about with your new role?
There's so much to be excited about! Getting to contribute to a project that has the potential to change the lives of so many children, working out in the field to bring these essential services to vulnerable communities and of course the opportunity to work closely with talented medical, legal and social service professionals that are leaders in their field. I feel really lucky and proud to be a part of such an exceptional team.
What were you doing before you joined Legal Council?
Before I joined Legal Council I was working full time as a Certified Medical Assistant and studied at the University of Illinois at Chicago where I earned my Bachelor's degree in Public Health and minored in Gender and Women's Studies.