Staff Spotlight: Rachel Roberts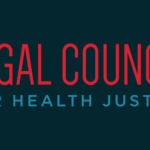 Staff Spotlight is a blog series featuring a member of Legal Council's expert and ever-growing team. Today's Spotlight features Rachel Roberts, our new Children's Mental Health Advocate.
What brought you to Legal Council?
Like my predecessor, I came to Legal Council through Avodah, a year-long fellowship emphasizing social justice, Jewish values, and community living. This position initially interested me because of my passion for mental health and children's wellness. As I learned more about Legal Council, I realized how much more there was to understand the systems and barriers that impact mental, emotional, and physical health and education for youth and families. 
What does your program do and who do you serve?
I will be working on medical-legal partnerships for children and families. Primarily, I will serve as a liaison and legal advocate for our partnership with Under the Rainbow (UTR) at Mount Sinai, which is an outpatient behavioral clinic for children and youth. In this partnership, we help medical providers identify social determinants of health and barriers to mental health that can be addressed with a legal remedy. We provide direct representation and advice, and can assist more broadly with policy advocacy to impact a higher number of individuals. 
What are you most excited about with your new role?
This position is my first experience working in legal aid and advocacy, so generally speaking, I am excited to learn more about the relationship between public policy and social justice. I am also hoping to participate in some of the ongoing policy projects that seek to improve infant and early childhood mental health care. I am looking forward to partnering with UTR, and I'm crossing my fingers that the pandemic subsides so that I can be in-person at the clinic at some point this year!
What were you doing before you joined Legal Council?
I graduated from Washington University in St. Louis in December 2019, where I studied anthropology, design, and psychology. As an undergraduate, I was part of a peer counseling mental health organization and directed a storytelling production on reproductive justice, which informed my evolving interest in public health and trauma-informed advocacy. Since graduating, I have worked in several short term positions on progressive political campaigns and justice-centered non-profits.