Staff Spotlight: Jada Tinnin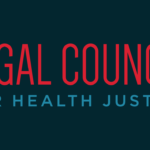 Staff Spotlight is a blog series featuring a member of Legal Council's expert and ever-growing team. Today's Spotlight features Jada Tinnin, a Health and Disability Medical Legal Partnership Coordinator, AmeriCorps VISTA with our HIV/AIDS program.
What brought you to Legal Council?
I wanted to learn more about law and public health. I also have a passion for working with underrepresented communities and the majority of the clients that Legal Council helps are those from underrepresented communities. Legal Council is the perfect place for me to begin a career in law, public health, or possibly both.
What does your program do and who do you serve?
I work with the HIV/AIDS program on the Howard Brown Health medical-legal partnerships project. Our team is responsible for running a weekly legal clinic at three different Howard Brown locations around the city. A lot of our work is helping clients apply for public benefits. We have referrals for clients if we believe that their issue is out of our jurisdiction. I'm responsible for communicating with clients about their upcoming appointments and answering any questions they may have about our services. I also attend various meetings to learn more about the issues that different communities are facing and how organizations around the city, including Legal Council, can address those issues.  I am a liaison between the attorneys and community organizations.
What are you most excited about with your new role?
This is my first real experience since graduating so I'm excited to finally have the opportunity to discover what I really want to do with my life outside of a classroom.  I enjoy having a firsthand look at the daily operations of a law firm as well as learning more about the medical-legal partnership model.
What were you doing before you joined Legal Council?
I graduated from Bucknell Univeristy in May of 2018. I spent most of the summer caring for my ailing grandmother which gave me some time to think about what I wanted to do with my life. I really didn't have a plan for the future but I knew that I wanted to do some volunteer work before fully committing to something. I decided that AmeriCorps was the best option for me because it would allow me the opportunity to not only gain important work experience but also the opportunity to give back to my community.