Staff Spotlight: Benjamin J. Handy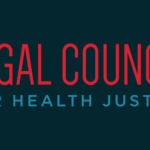 Staff Spotlight is a blog series featuring a member of Legal Council's expert and ever-growing team. Today's Spotlight features Benjamin J. Handy, Community Organizer.
What brought you to Legal Council? 
I first came into contact with the Legal Council for Health Justice as a Case Manager at Matthew House, a partner agency of Legal Council's homeless program.  I worked closely with both Kate Miller and Lisa Parsons. Their aid to our homeless clients was inspirational and gave me a glimpse into the good that can come from directly addressing the social determinants of health.  When I learned of an opportunity to join the team here on a project to engage community participation in Medical Legal Partnerships like the one Legal Council has with Christian Community Health Center (CCHC), I jumped at the chance.   
What does your program do and who do you serve? 
Mine is a new project at Legal Council and I'll be working directly with CCHC Staff and residents in both the Chicago and Suburban service areas. Christian Community Health Center, a Federally Qualified Health Center (FQHC), offers care to four contiguous zip codes on Chicago's far south side and five contiguous zip codes representing multiple south suburban municipalities. I will be working with a legal team that will address legal needs through referrals and direct assistance, identifying and engaging community resources in improving health metrics, listening and learning from local input and applying lessons learned in ways that improve and enhance the Medical Legal Partnership we share.
What are you most excited about with your new role?  
So many things about this position excite me. I feel that a lot of my professional and life experiences have prepared me for this work. If pressed though, I'd have to say that I most look forward to perfecting my active listening skills. I can't wait to get to know and engage with residents of this broad swath of communities stretched across the southlands. I'm sure that by identifying, nurturing and tapping into local talents we can positively impact the excellent work the team at CCHC is doing to improve local health outcomes.    
What were you doing before you joined Legal Council? 
I was a Case Manager at a behavioral health organization called Chicago Therapeutic Services. I worked to ensure the people on my team maintained the highest standards of professionalism and customer care.