Staff Spotlight: Jessica Richardson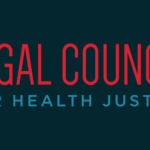 Staff Spotlight is a blog series featuring a member of Legal Council's expert and ever-growing team. Today's Spotlight features Jessica Richardson, our new Marketing and Development VISTA. 
What brought you to Legal Council?
After college, I chose to join AmeriCorps due to their awesome benefits and impact their service has on the community. I majored in business and art in college, with the main goal of going into the marketing field. I found that Legal Council had an open position for Marketing and Development on the AmeriCorps job board and immediately reached out. I chose Legal Council because of a great opportunity I would have to be part of the Development team as the Marketing and Development VISTA.
What are you most excited about with your new role?
This opportunity will not only help me grow professionally by gaining experience in my desired field, but I will also have a chance to become a more educated advocate of health rights. I think I'm most excited about being able to learn more about public health laws and how they affect underprivileged individuals in my own neighboring communities. I also like that I will be able to create content and enhance viewers experience when visiting our website or social media pages.
What were you doing before you joined Legal Council?
Before Legal Council I was finishing my last year at Coe College in Cedar Rapids, Iowa. As a recent college graduate, I was just looking for jobs and taking a little bit of time to relax with family and friends before my work journey started.