Staff Spotlight: Claire Mattson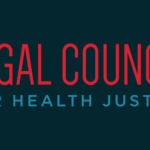 Staff Spotlight is a blog series featuring a member of Legal Council's expert and growing team. Today's Spotlight features Claire Mattson, a Healthy Futures VISTA. 
What brought you to Legal Council?
I got involved with Legal Council because I wanted to learn more about social and environmental determinants of health. I had been previously exposed to these issues through my women's studies classes and environmental research, sparking my passion for social justice and health equity. However, all of my previous work was more research-oriented. What drew me to Legal Council was that I would be able to work on the policy aspects of these issues in order to create lasting change.  Additionally, as someone who lived in suburban Michigan her entire life, I wanted a change of pace, so I was excited that this position would allow me to explore a completely new field in a new, bigger city.
What does your program do and who do you serve?
I work with the Children & Families Program. Currently, we are working on a project expanding Early Intervention services to children with high levels of lead exposure in Illinois. Even low-level lead poisoning can result in serious developmental delays, making it that much more important to get children with elevated blood lead levels services as soon as possible. As the AmeriCorps Healthy Futures VISTA, I conduct research and data analysis and draft informational documents and presentations in order to better identify and provide services to children with chronic, disabling, and stigmatizing health conditions, such as lead poisoning.
What are you most excited about with your new role?
I'm most excited to play a part in helping in so many children's development, and learn about a field that is completely new to me. Prior to Legal Council, I had done little to no policy work. However, after only a few weeks, I have been exposed to so many new ideas and experiences and am looking forward to learning and growing in this position. Additionally, my hope is to one day be a doctor for patients in undeserved communities, so I am excited to see how my experiences at Legal Council will shape and enhance my future practice as a physician.
What were you doing before you joined Legal Council?
I graduated from the University of Michigan with a biochemistry degree and was working in an environmental chemistry lab and also as a chemistry tutor!