Progress for Illinois Special Education Students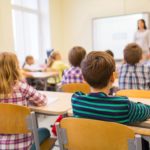 After a unanimous vote in both chambers, the Illinois General Assembly has passed two special education bills crafted by Legal Council advocates.
These bills eliminate barriers to parent participation in education decisions for their children, and provide opportunities for redress to families of children who were harmed by Chicago Public Schools' illegal delays or denials of special education services.
In April, we gave you an in-depth look at these two bills and the issues facing special education children and their families. The passing of HB 3302 and HB 3586 is a milestone victory for Illinois children in special education, especially for Chicago Public School students who have gone years without the proper services they needed to thrive at school.
Further reading: Two special education bills crafted in collaboration with Legal Council progressed through the House, April 2019
Thank you to the HB 3302 and HB 3586 House sponsors Representatives Crespo, Martwick, Carroll, Davis, and Hernandez, and the Senate sponsor Senator Koehler for their partnership. And thank you to our partners at Access Living, Equip for Equality, and IL Raise Your Hand for their support and tireless advocacy.
The bills now await signature from the Governor.
UPDATE, 8/26/2019: On Friday, August 23, Gov. Pritzker signed both bills into law. Thank you Governor for protecting the education of Illinois students!