Legal Council Postpones Summer Fundraiser Amid Recent COVID Spike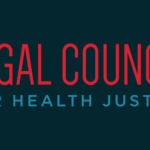 Given the recent spike in COVID-19 cases in Chicago and neighboring states, Legal Council for Health Justice has made the difficult decision to cancel our Summer Soirée: Spanish Holiday event scheduled for August 26 at Sidetrack and postpone the event to August 2022. Although we were looking forward to the return of in-person celebrations, our responsibility to protect the health and well-being of our supporters, staff, and the communities we serve is more important.
This decision was not made lightly and comes after discussions with multiple community leaders, including our partner Howard Brown Health who announced last week their recommendations for implementing strict COVID-19 safety and prevention measures, as well as their decision to not participate in public events. Similar to Howard Brown Health, Legal Council is concerned by data indicating that the COVID-19 Delta variant—which currently accounts for more than 83 percent of recent infections nationwide—spreads more easily and has a more significant effect on younger individuals than other strands of the virus. Although most fully vaccinated people who experience "breakthrough" infections will experience only mild symptoms, those individuals can spread the virus to others who are unvaccinated, which includes young children who are not yet eligible, and those who are immunocompromised or otherwise have shown an inadequate response to the COVID-19 vaccines. As leaders in health justice, the health and safety of everybody in our communities is our top priority.
All individuals who previously purchased a ticket to attend Spanish Holiday or to enter the Grand Raffle have been contacted. While the in-person event is canceled, our virtual silent auction will continue as planned. The auction will go live on our event page in the coming weeks. Every dollar raised in the auction goes directly back to our communities, connecting individuals with disabilities and chronic health conditions to the support they need to stay healthy, fed, and housed. Legal Council extends a special thank you to businesses and community members who graciously donated items to this year's silent auction, despite facing their own hardships throughout the pandemic.
Legal Council remains dedicated to promoting the health and well-being of all Illinoisans. We will continue to take the necessary steps to protect our communities, and will continue to advocate for accessible, equitable health care and services that allow all of us to reach our full potential.
To learn more about COVID-19 and vaccinations, visit the Illinois Department of Public Health website, the Chicago Department of Public Health website, or the CDC's COVID-19 resource hub.