Legal Council's Annual Summer Soirée Awardees 2023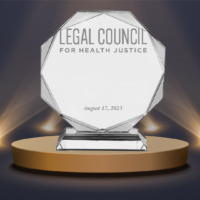 At Legal Council's Annual Summer Soirée we have the honor to recognize individuals and organizations who contribute to our clients' access to quality, affordable, and equitable healthcare. These awards highlight the power of collective efforts in creating positive change and fostering a more inclusive and equitable society.
James Monroe Smith Founder Awardees: Representative Dagmara Avelar and Senator Robert Peters
The James Monroe Smith Founder Award, named after the esteemed founder of Legal Council, is presented to exemplary leaders who have demonstrated exceptional commitment to the well-being of their constituents and the people of Illinois. This year we recognize two exceptional elected officials who led the effort to pass the Protect Illinoisans from Unfair Medical Debt bill that became law on June 28 and ensures that hospitals affirmatively screen uninsured patients for health coverage and financial support rather than waiting for patients to request a screening.
Representative Dagmara "Dee" Avelar (she/her) has represented the 85th District in the Illinois House since 2020. She has a passion for advocating for working families and addressing issues faced by low-income and limited English proficient residents. During her first term in office, she has made significant strides in improving healthcare access, combatting the opioid crisis, and securing over $100 million in funding for education and social services. A formerly undocumented DREAMer who became a U.S. citizen in 2016, her unique perspective enriches her legislative work. Dee Avelar's commitment to community service and leadership as House Chair of the Illinois Legislative Latino Caucus makes her an invaluable asset to her district and the State of Illinois.
Senator Robert Peters (he/his) has represented the 13th District in the Illinois Senate since 2019. Senator Robert Peters' dedication to addressing injustices has been influenced by his challenging early life and personal hardships during the Great Recession. He found his strength through political organizing in Chicago and aligning with various justice-focused organizations. As a State Senator, Robert has successfully advocated for ending cash bail in Illinois and expanding worker protections for Black and Latino workers in temporary employment. Additionally, he chairs the Labor Committee in the Senate and leads the Senate Black Caucus. Senator Peters remains dedicated to championing investments in tourism, small businesses, and education, prioritizing environmental and racial justice, economic freedom, and public safety for all.
Kimball & Karen Anderson Community Awardee: The Pro Bono Network 
The Kimball & Karen Anderson Community Award, named after local philanthropists, leaders in law, and long-time supporters of Legal Council, celebrates community partners for their exceptional efforts in removing barriers to health for low-income individuals and vulnerable populations.
The Pro Bono Network (PBN) is a non-profit organization that collaborates with local legal aid agencies to adapt or expand their programs using volunteer attorneys and other professionals. Located in Oak Park, PBN connects attorneys with pro bono opportunities that impact the lives of under-resourced individuals and communities.
More than 85% of the civil legal needs of low-income Americans go unmet each year. Since 2011, PBN has partnered with more than 20 community organizations and legal aid agencies to help fill this critical need.  They have recruited and supported more than 450 volunteer attorneys and 30 translators who have contributed 29,000 volunteer hours— totaling over $7.25M in free legal services—to help 5,000 clients. PBN staff and Legal Council's Children & Families project have been collaborating for the last few years to help obtain plenary adult guardianship for individuals with disabilities that are not able to make decisions on their own behalf. PBN has also partnered with our AIDS Legal Council Project to draft wills, Powers of Attorney for Healthcare and Property, and other estate planning documents to ensure that our clients' dignity remains intact if they are unable to manage their affairs and that their last wishes are enshrined, recognized, and protected by law.
Ann Hilton Fisher Advocate Awardee: Norma Rolfsen
The Ann Hilton Fisher Advocate Award, named after the former Executive Director who led Legal Council for 17 years, honors a distinguished community leader whose advocacy has advanced Legal Council's mission of serving low-income individuals facing barriers due to chronic illnesses or disabilities.
Norma Rolfsen (she/her) is a dedicated nurse practitioner caring for low-income patients living with HIV, primarily on the South side of Chicago. She serves as clinical nursing faculty of the University of Illinois at Chicago (UIC), a faculty member of the Midwest AIDS Training and Education Center, and is co-chair of the Chicago HIV Breakfast Club, a monthly education program for clinicians. Additionally, Norma facilitates the Medical Advisory Group, convening clinicians to advise AFC, IDPH, and insurance providers on issues of policy planning, advocacy, and improving critical health services. She has also worked with UIC nursing faculty in developing the Master of Nursing HIV specialty curriculum for Bel-Air College of Nursing in Panchgani, India, the first Indian college to offer HIV specialization. She has been active locally, nationally, and internationally with the Association of Nurses in AIDS Care (ANAC) and assisted Bel-Air faculty to establish the first Indian chapter of ANAC. She also received the ANAC Lifetime Achievement award. In her words, "Receiving an award named for Ann is an incredible thrill". Norma considers Ann Fisher as one of her heroes and has been a trusted, valued colleague, and mentor.
Norma has been an integral part of Legal Council's medical-legal partnership with the Michael Reese Care Program at UI Health. The Care Program is a recognized leader in integrated primary and multi-specialty care for people living with HIV disease, providing a seamless system of care including case management, mental health and substance use counseling, primary care and women's health care, wellness, and medication education while enhancing connection to care. Norma co-directs their program, assuring that all services are available in the same setting during the clinic visit, which decreases the stigma of HIV and mental health care.
–
Please join us on August 17 (6 PM – 9 PM) for an unforgettable evening at Sidetrack (3849 N. Halsted) to witness the award ceremony and celebrate the remarkable achievements of our awardees. By attending the Summer Soirée, not only will you enjoy delicious food, an open bar, and exciting raffle prizes, but you will be supporting Legal Council's mission of using the power of the law to secure dignity, opportunity, and well-being for people facing barriers due to illness or disability.