Legal Council partner Dr. Hamp receives high honor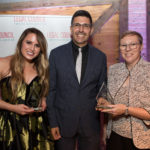 Longtime Legal Council advocate and friend Dr. Nicole Hamp recently was awarded the Anne E. Dyson Child Advocacy Award from the American Academy of Pediatrics.
Hamp received this exceptional honor for her work with Legal Council's children and families program. This award, intended to celebrate the outstanding efforts of pediatricians-in-training to improve the health of children, was more than earned given Dr. Hamp's tenacious efforts in providing much of the scientific justification, educational outreach, and translational foundations upon which the Early Intervention (E.I) and Lead pilot and research work with Erikson Institute was built. Despite the rigors of residency, her enthusiasm and work ethic has proved indispensable for the E.I and Lead initiative, and her enthusiasm will resonate in the lives of the children she has served for years to come.
This past October, Legal Council awarded Dr. Hamp with the first ever Ann Hilton Fisher Advocate Award at our 30th Anniversary Gala. 
Dr. Hamp has proven herself indispensable to Legal Council's advocacy work serving families of children with serious illnesses. She often comes to Legal Council's office following her 30-hour shifts to help Legal Council's advocacy efforts for improving child health in Illinois. She has long had an interest in working with children with special needs and plans to make this passion a central part of her future career as a Developmental Behavioral Pediatrician. She hopes to one day work in academic medicine, teaching and pursuing translational research to inform both practice and policy. She also plans to always stay active in her advocacy efforts for under-served children. -- Legal Council Ann Hilton Fisher Advocate Award statement, 10/13/2018
Most recently, Dr. Hamp co-authored an article with Legal Council's Amy Zimmerman and former Legal Council VISTA Jessica Hoffen entitled "Advocating for Automatic Eligibility for Early Intervention Services for Children Exposed to Lead."
Dr. Hamp is a formidable ally in Legal Council's child health advocacy efforts and in the fight for health justice. Congratulations on this great honor, Dr. Hamp!