New publication: Advocating for automatic eligibility for EI services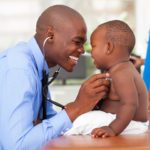 Legal Council's Children and Families Partnerships Director Amy Zimmerman recently published a special issue article titled "Advocating for Automatic Eligibility for Early Intervention Services for Children Exposed to Lead." The article was co-authored with Dr. Nicole Hamp, a third-year pediatric resident at our medical-legal partnership site Comer Children's Hospital, and Jessica Hoffen, former Legal Council AmeriCorps VISTA and a first-year medical student at Warren Alpert Medical School of Brown University, and was published in the October 2018 issue of Pediatric Annals.
Early Intervention (E.I) is a program designed to improve the development of infants and toddlers with disabilities between birth and 3 years old. The program helps minimize potential developmental delays by providing direct services and teaching families to include opportunities of learning into their child's daily routine. The article details how low level lead poisoning can affect young children, Early Intervention, advocacy in Illinois, and next steps. Advocates hope to guarantee automatic eligibility to E.I services for all children with blood lead levels at a 5mcg/dL and above in Illinois and across the country.
Below is the abstract of this article:
Lead poisoning remains one of the most prevalent and preventable environmental health hazards affecting children. Low-level lead exposure has been shown to significantly increase the risk of learning disabilities, behavioral problems, and developmental delay. It also has substantial social implications as lead toxicity disproportionately affects children from low-income, ethnic minority households. Early Intervention (E.I) is a state-based federal program (Part C of the Federal Individuals with Disabilities Education Act) created to support the development of children from birth to age 3 years who are experiencing or who are at risk for developmental delay. In 2016, an Illinois E.I and Lead Workgroup was established to address the best practice of offering E.I services to children who have been exposed to lead. This work serves as a template for advocates and health providers in other states to establish automatic eligibility for E.I services at low levels of lead exposure, while also demonstrating the capacity to serve these children without overwhelming the state's E.I system.