Mental Health and Criminal Justice Reform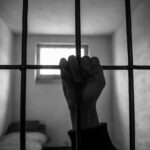 This story was originally published in Legal Council's 2020 Annual Report.
People with mental illness are disproportionately overrepresented in American jails and prisons. In Legal Council's Homeless Program, most clients have some degree of involvement in the justice system. At the onset of COVID-19, Legal Council advocates recognized the serious risk for outbreaks in crowded prisons, and joined advocates across the city and state to advocate for measures to reduce prison populations.
Beginning in mid-March, Legal Council became active partners with the Prison Emergency Early Release Response Program to provide benefits advocacy to people discharged from state prisons, empowering them to re-enter society with their needs met. This work highlights the inadequate systems in place for humanely and effectively meeting the needs of people living with complex behavioral health needs. No person should be incarcerated in correctional facilities for behavior related to serious mental illness, addiction, seeking safe shelter, or sustenance.
Continuing on this line of work, Legal Council joined early efforts to organize the Illinois Alliance for Reentry and Justice in April to support people exiting jails and prisons and collectively work to radically reimagine more just correctional and criminal justice systems. The nation's criminal justice system overwhelmingly targets people of color, low-income people, and people with serious mental illness. In fact, Chicago's Cook County Jail is the largest mental health provider in the state of Illinois. This indicates an unacceptable lack of mental health care available for people before they reach crisis.
Through our work with behavioral and mental health conditions, and through our trauma-informed advocacy, Legal Council has seen first-hand both the indifference of our criminal justice system to the well-being of the people interacting with it, and the healing that is possible when people get the care that they need. It is time to drastically rethink these systems, and Legal Council is proud to lead this change.