Celebrating the Legal Beagles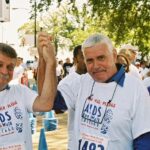 For the last 23 years, Legal Council has participated in AIDS Run & Walk Chicago—starting back in our early days as AIDS Legal Council of Chicago, and keeping the tradition going even after we expanded our agency in 2014.
Since the beginning, Legal Council friends John Hern and Ed Jeske have always been members of our team (the Legal Beagles!) and are our superstar fundraisers. Year-after-year, John and Ed inspire Legal Council and our teammates to be the best Beagles we can be, and to lead the way with integrity, generosity, and quiet persistence.
While AIDS Run & Walk Chicago looked different in this pandemic year, John and Ed continued their commitment and spirited participation. Together, John and Ed raised more than $4,600 to help people living with HIV stay healthy, fed, and housed during the pandemic—and to help Illinois end the HIV epidemic by 2030.
Ed and John have a long history of supporting Legal Council. Ed was a tremendous organizing force when the ABA's Legal Conference on AIDS took place in Chicago in 2002. And together, Ed and John have hosted Legal Council's winter party for our Advocates Circle members every December. At every Legal Council commemoration, their graciousness is evident.
Here is an excerpt from Ed's report to their supporters after this year's Run & Walk:
"John, a multi-tasker (at 75 you have to be!!!), took advantage of a beautifully cool Friday morning, October 2, to participate as a member of the Legal Beagles team in the 2020 AIDS Run and Walk.
His 5-K route took him from our home on Wells Street, to State and Washington streets downtown and then back home again. Thank you so much for supporting John's walk this year helping to raise over $4,500 to support all those working hard with the AIDS Foundation of Chicago, particularly the Legal Council for Health Justice."
Once again, in 2020 John and Ed are at the top for fundraisers overall in our Community Direct category with the AIDS Run & Walk.
"In such uncertain times, Legal Council, our clients, and our Run & Walk team Legal Beagles are so grateful to have the certainty that is John and Ed's kindness and generosity," said Kate Miller, an advocate at Legal Council and the team captain of the Legal Beagles. "Their contributions to Legal Council are in the scores—too many to count. And their diligence and persistence has inspired so many to keep fighting for health justice."
Thank you, John and Ed, for supporting the Legal Beagles and the AIDS Run & Walk for these 23 years!