Staff Spotlight: Jena Moch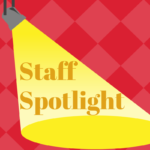 Legal Council just keeps growing! During the last couple of months, we welcomed multiple new employees in our legal programs, development team, and administrative team. Legal Council has many exciting projects coming up, so we're taking the time to highlight the projects and our new team members in our new blog series "Staff Spotlight".
Today we put a spotlight on Jena Moch, a Children's Mental Health Advocate. Learn about her upcoming projects with Legal Council's Child and Family Health division.
What brought you to Legal Council?
As a recent college graduate with ambitions of getting my Masters in Social Work, I was really fascinated by the Medical-Legal Partnership model that Legal Council takes on and was excited to get that well rounded perspective. With the lens I knew my service year would provide me with, I felt Legal Council would be the perfect place to see the impacts of barriers our clients face on a daily basis.
What does your program do and who do you serve?
I work as a Children's Mental Health Advocate with the Outpatient Behavioral Clinic at Mount Sinai. Here, we serve marginalized populations living on the West and South side of Chicago addressing barriers to health care such as housing, education, immigration and more. Many of our clients have experienced trauma and have P.T.S.D and/or depression.
What are you most excited about with your new role?
I'm most excited to get exposure from all the different angles and vantage points this position has to offer  whether it be the legal team,  the mental health care professionals, or our clients themselves. I am very lucky to be able to do so within such an incredibly supportive work environment as well.
Where were you before joining Legal Council? 
Before I came to Legal Council, I was finishing up my undergraduate degree at the University of Denver where I majored in Psychology and double minored in Communication and English.