Staff Spotlight: Hannah Berkowitz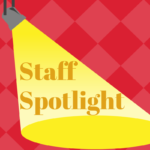 Legal Council just keeps growing! Two months ago, we welcomed over 10 new employees in our legal programs, development team, and administrative team. Legal Council has many exciting projects coming up, so we're taking the time to highlight the projects and our new team members in our new blog series "Staff Spotlight."
Today's spotlight is on Hannah Berkowitz, our new staff attorney and an Equal Justice Fellow sponsored by Barack Ferrazzano Kirschbaum & Nagelberg L.L.P/B.F.K.N Foundation. Check out her current work with our children and family's program and help us welcome her to the team!
What brought you to Legal Council?
I was first connected with Legal Council when I was interning in the special education clinic at Equip for Equality. While at Equip for Equality, I learned about the Equal Justice Works fellowship program and I began looking for organizations that were interested in developing a project and hosting a fellow. After reading about the work that Legal Council has done with medical-legal partnerships and the organization's experience hosting fellows, I came to Legal Council to develop a project to provide legal intervention for vulnerable children. I am passionate about ensuring that high-quality education is made available to all children, especially those with special needs, and felt that Legal Council would be the perfect organization to collaborate with on a project to meet that goal.
What does your program do and who do you serve?
My project is housed within the Children and Families program and serves children and families enrolled in Head Start. My project is a legal partnership with a Head Start that is based on Legal Council's medical-legal partnership model. The project will embed legal aid on-site at a Head Start to improve family stability, child well-being, and kindergarten readiness. We have partnered with Children's Place Association, a Head Start/Early Head Start program in Humboldt Park. Through this partnership, we will be able to provide services to the kids and families at Children's Place in the areas of education/special education, public benefits access, and medical coverage.
What are you most excited about with your new role?
I am most excited about having the opportunity to create a new program and to be able to demonstrate the need to incorporate legal services into the Head Start model. I am excited to create this model partnership and show how, with the assistance of legal advocates, Head Starts will be able to retain and best serve the most high-risk children and drastically improve their overall life outcomes.
What were you doing before you joined Legal Council?
Before joining Legal Council, I received my B.S. in special education and cognitive studies from Vanderbilt University. During that time I saw the many issues students with disabilities faced in accessing quality education and I realized that I wanted to pursue a career in law to make a larger impact outside my own classroom. I then attended the University of Wisconsin Law School where I sought out courses and internships in education law. During my 1L summer, I started an internship as the law clerk for the Wisconsin Department of Public Instruction (D.P.I). My internship was extended beyond the summer and I stayed at the D.P.I until the end of my 3L year. As the law clerk for the D.P.I I had to opportunity to work in all areas of education law, including special education, student discipline, educator licensure, policy and legislation. During my 2L summer, I took a break from the D.P.I and interned in the special education clinic at Equip for Equality where I was able to work with families and gain experience with direct representation. I graduated from the University of Wisconsin Law School this past May and was sworn in to the Wisconsin Bar later that month. I then spent the summer studying for and taking the Illinois bar exam before starting my fellowship at Legal Council in September.