Guest Blog: Taking Pride in Who You Are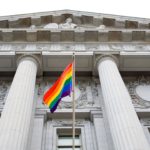 I always knew I wanted to work in public interest law, but I came to Legal Council because I wanted a place where I could be myself. I wanted a place where I could interact with clients who were like me. Growing up in South Georgia, I didn't always have that.
Since the beginning of my time with Legal Council, I never had to worry about being someone other than me. Even during my interview, I felt as if I was truly being judged by my resume rather than who I loved.
Legal Council has provided a safe, comfortable, and inclusive space for both clients and staff. It is an environment that has empowered me to accomplish important victories for our clients—access to health care, food, and housing, ultimately allowing them to participate in all walks of life.
As a gay, black man, I am proud to be a representation of Legal Council.
Serving our clients is the most rewarding experience. For most of their lives, they have dealt with a complicated, discriminatory, and unforgiving system. Honestly, most of the people in this system that our clients encounter have less than pleasant attitudes, so I always treat my clients the way I want to be treated—with compassion, empathy, and respect.
Often times, when I am meeting with a client, I think about how it could be me on the other side of my desk. Working with clients each day reminds me that we're not so different.
On Mondays, I staff Legal Council's legal clinic at Howard Brown in Rogers Park. Recently, I had a phone call with a client that needed to reschedule his appointment. He was not available to see me the following Monday, but he was available later in the week. I told him that my co-worker, Kenya, works at Legal Council's Howard Brown legal clinic on 63rd Street on Wednesdays.
As we were about to hang up, he asked for my co-worker's name again to verify he had his appointment written down correctly. When I reminded him her name was Kenya, he replied, "I can remember that. That's my favorite housewife's name." I laughed, knowing he meant Kenya Moore from "The Real Housewives of Atlanta." This sparked a conversation about the previous night's episode, and we shared our speculations for future episodes. Before we hung up, the client thanked me. He told me he had not laughed in a long time, and that it felt good to have someone to talk with and listen to him.
In that moment, I felt proud. Especially in our current environment, I felt proud to be a young, black attorney. I felt proud of the work my colleagues and I do at an organization that does so much for the LGBTQ community. I felt proud to be a gay man.
On that day, one of my clients reminded me what pride means: to be unequivocally proud of the true version of myself, no matter who or what tries to tell me otherwise—sometimes, even myself.
Myron Grant is a staff attorney at Legal Council and serves our legal clinic at Howard Brown Health in Rogers Park. 
Happy Pride Month from everyone at Legal Council.