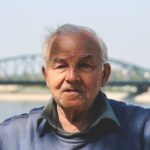 Trent was a 61 year old man living with HIV. Because of a variety of different health conditions, including HIV, heart complications, and lung problems, Trent was taking 15 different medications. His health conditions were severe. When Legal Council met him, he was waiting for approval for a heart and lung transplant.
Before reaching out to Legal Council, he received coverage from a managed care program for seniors and people with disabilities, but wanted to change plans. After talking to his doctor, Legal Council helped Trent enroll in a new Medicare plan with more extensive coverage.
Because of heart and lung issues, Trent used a Bilevel Positive Airway Pressure (BiPAP) to help him breath. Initially his managed care program covered the machine, but when he switched to his new health coverage plan, he had to switch oxygen supply providers. Trent didn't know that the new plan required him to take two medical tests before receiving approval for his machine. Without his BiPAP machine, Trent found it hard to breathe.
After learning of the mishap, Legal Council helped Trent find the lab results he needed for his machine. But Trent continued to face barriers: The hospital where Trent had his tests done delayed sending the results to the officials overseeing his BiPAP machine application. Trent suffered greatly. One of his lungs had collapsed and he was in constant discomfort. All while his hospital failed to deliver two tests results that declared he was a perfect candidate for a BiPAP machine.
His Legal Council case manager put an end to the life-threatening delay. We pushed the hospital to prioritize Trent's requests for his medical records. Upon receiving his medical records and sending them to his oxygen provider, Trent was quickly approved for his new BiPAP machine.