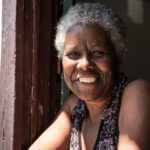 Legal Council client Tina was a strong woman with an extensive history of trauma and was experiencing homelessness. Although Tina was strong, her troubled childhood and health issues made for a difficult adulthood and she was out of options. After Tina sought assistance from Legal Council, she shaped a new outlook on her life despite the obstacles she faced.
Tina had a long history of trauma that led her to meet one of Legal Council's attorneys at a homeless shelter. On her mother's request, she left school during 6th grade while only at a 4th-grade reading level. Her childhood was clouded with trauma including sexual and physical abuse. She lost her children to Child Protective Services because her family had nowhere to call home. Applying for jobs was a challenge for Tina because she had difficulty reading, but she found short-term jobs to make ends meet. However, Tina had no stability in her employment. She was diagnosed with depression and schizophrenia, and the arthritis in her knees made it difficult for her to stand for too long. Before meeting her Legal Council attorney, she applied for benefits twice and was denied both times.
Throughout her time with Legal Council, Tina's indomitable spirit never faltered. Legal Council won her claim for social security benefits. This was a huge step for her: finally, she had a steady source of income that would help her find reliable housing. She went from couch surfing and living on and off the streets to having a sense of security again.