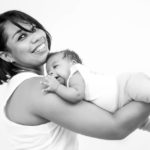 From day one life forced Sasha to put up a fight. When she was born, she was infected with H.I.V and was a child of the foster care system. At age six she was diagnosed with AIDS. Despite the trauma and health struggles she experienced, by 2014 Sasha was thriving.
It seemed she was doing the impossible. She was juggling working retail while completing a pharmacy technician certification. At home, she was raising her newborn and toddler. Things were really going in a positive direction when she landed a well-paying full-time job with a pharmacy after finishing her program. Sasha has a passion for helping people and working at a pharmacy allowed her to do just that. She truly enjoyed helping people get the medication they needed. Unfortunately, Sasha was missing too much work because of her ongoing health problems. Undeterred, she left her job at the pharmacy to become a home health aide, which allowed for a more flexible schedule.
In 2016, her health problems became too much to bear. While lifting one of her patients, Sasha seriously injured her back, which forced her to leave her job as a home health aide. She could barely walk and was in constant pain. Then she was diagnosed with Cushing Syndrome, a condition from having high cortisol levels. This new diagnosis piled on top of increasingly frequent migraines and the appearance of frightening new panic attacks. Her back injury, mounting health problems, and job loss impacted her mental health negatively making it understandably difficult to cope. She experienced feelings of hopelessness, anxiety, and depression. In 2017, Sasha had surgery on her back injury and began many months of physical therapy. Eventually, she applied for disability benefits, but was denied. Finally, her daughter was diagnosed with type 1 diabetes, requiring constant care. For Sasha, her daughter's diagnosis was her lowest point.
Legal Council stepping in changed the course of Sasha's life. For so long it seemed that Sasha would continue to face obstacle after obstacle. Finally she had a powerful force on her side to help turn things around for the better. And Legal Council, inspired by Sasha's immense strength, was happy to do so. They won Sasha's case for disability benefits before an administrative law judge. Now, with Medicare and monthly disability benefits, Sasha can take care of her modest bills and her children. She can stabilize her life while taking better care of her health. Of course, she hopes to someday return to work as a pharmacy tech. For now, she is in a much better position to thrive once again.