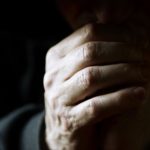 Gregory lived through a series of challenges and constant uphill battles before ending up at Chicago's Franciscan Outreach Shelter. His mother passed when he was a teen and he lost many of his siblings to illnesses. He spent time in prison for a few years and had less than a high school education. Before his stay at Franciscan, Gregory spent most of his adult life homeless and hopping between factory jobs that wouldn't last. Although he had some support by the time Legal Council met him, he still faced many barriers.
For as long as he could remember, Gregory experienced intellectual delay. On top of not graduating high school, he had trouble with his memory and understanding conversations and instructions. Gregory was once denied food stamps because he couldn't remember scheduling the necessary check-in appointments. His mental disability made getting information about his life difficult for Legal Council. But neither Gregory nor Legal Council gave up.
Legal Council followed Gregory every step of the way in the journey to securing him some stability. We were with him in the search for his school records to help determine his eligibility for benefits. We were with him when he needed a neuropsychological evaluation to determine if he could work (he could not). We were with him when he needed to attend appointments and was unsure of his surroundings. In the end, Legal Council was not only able to get Gregory benefits, but we also helped him find a new place to call home. These new housing arrangements provided food, housecleaning, and laundry services within a safe community setting. Gregory's life has changed drastically for the better and is very thankful for the help Legal Council provided.