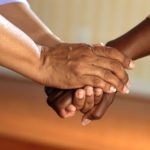 Diana lost trust in others at a young age. When she was in 11th grade, she became pregnant and suffered from sexual abuse at home. When she went away to boarding school, she was assaulted again. Throughout her life she turned to substance use and alcohol in an attempt to 'numb the pain' her childhood trauma caused her. After losing two sons to gun violence, Diana felt lost and hopeless. Diana was in between numerous jobs and trying to get her life back on track, but was living without a place to call home.
Diana was sleeping in a park when she met Legal Council. Because of her history of trauma, she was weary of receiving help from our attorneys. She had applied for social security in the past, but was denied each time. Diana hadn't worked for years, lived with depression and arthritis, and had a severe fear of crowded places. Since many Chicago homeless shelters tend to be crowded, Diana opted to sleep in parks. All of these factors prevented her from holding a steady job.
Determined to be approved for benefits, Diana decided to seek help from Legal Council. Diana and Legal Council partnered on a new benefits applications and our attorneys accompanied her to appointments with the Social Security Administration. As expected, winning benefits was a long process that took a lot of patience and a lot of phone calls. But our attorneys saw Diana's strength and perseverance. While Diana lived through an extensive history of trauma, she was determined to overcome her past and push for a different future. When working with Legal Council, Diana clearly had her guard up, but our trauma-informed attorneys understood the variety of ways survivors of trauma cope. Legal Council and Diana were able to win benefits as a steady source of income and secure a brighter future for Diana and her family.