Illinois Department of Human Services Budget Request for Stolen SNAP & AABD Benefit Reimbursement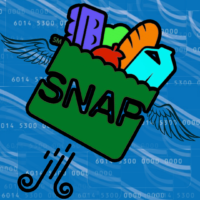 Legal advocacy groups — Shriver Center on Poverty Law, Legal Action Chicago, and Legal Council for Health Justice — support budget appropriations to ensure that victims of public benefit skimming theft are reimbursed and made whole again.
SNAP plays a vital role in reducing food insecurity and hunger in Illinois.
In Illinois, roughly 2 million residents (or 1 in 6 people) received SNAP benefits in FY 2022. In addition, more than two-thirds of recipients were in families with children.
Losing even one or two months of SNAP can be devastating for a low-income working individual or family.
The Problem:
Benefit skimming typically occurs when criminals clone LINK cards from the card readers to obtain access to remaining funds without the SNAP/AABD recipient ever having any idea the theft is occurring and without the card leaving their possession.
Individuals usually only identify theft once their card is declined for insufficient funds when they go to pay for groceries at the store. Losing hundreds or sometimes thousands of dollars of benefits can be devastating to low-income individuals and families.
Congress required states to submit a plan for replacing stolen SNAP benefits from October 1, 2022 – September 20, 2024 using federal money. We expect the Illinois plan to be approved soon.
As a matter of fairness, it is not logical for someone who had theirs stolen in September 2022 to be treated differently than a victim who had theirs taken in October 2022.
However, this plan leaves Illinoisans whose SNAP was stolen from January through September 2022 without relief.  As a matter of simple fairness, there is no reason that someone who had SNAP stolen in September gets nothing while an identical victim in October is made whole.
THE ASK:
A one-time $5 million appropriation to assist low-income individuals that were victims of electronic theft (otherwise referred to as "skimming") from their Illinois LINK cards holding SNAP (formerly food stamps) and cash assistance for low-income recipients of Aid to the Aged Blind or Disabled Program (AABD).
The appropriation funds would be used by the Illinois Department of Human Services (IDHS) to specifically reimburse skimming theft for SNAP recipients from January 01, 2022 – September 30, 2022 (9 months) and AABD cash assistance recipients from January 2022 – September 2024.