Celebrating Health Justice Leaders: Kimball & Karen Anderson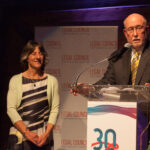 On May 15, 2021, Legal Council for Health Justice hosted Building Lives, Rebuilding Systems, our first-ever virtual gala. Building Lives shared stories of resilience from clients served by Legal Council, and updates on the fight for health justice from advocates in our communities—all examples of the work made possible by our leading event sponsors and longstanding health justice supporters, Kimball Anderson and Karen Gatsis Anderson.
As lead sponsors, Kimball and Karen's support allowed Legal Council to share a program highlighting the communities Legal Council has served and where the agency is looking to go next. Kimball and Karen's role as lead sponsors of Building Lives, Rebuilding Systems is fitting, as they have been with Legal Council since its inception, with Kimball serving as the first Board President when the organization was founded by James Monroe Smith as the AIDS Legal Council of Chicago. Legal Council's continued success and growth started with the work of James Monroe Smith and Kimball Anderson.
This foundation for success set by Kimball and Karen allowed Legal Council to provide legal care to 2,000 individuals and their families, train more than 2,000 individuals, and engage in numerous high-impact advocacy efforts over the past year. Our impact advocacy has led to life-changing system changes, including our case that forced the State of Illinois to provide temporary Medicaid to thousands of applicants whose applications the State was months delayed in processing. We have also worked tirelessly in coalition with our partners at the Illinois HIV Action Alliance to end the criminalization of HIV in Illinois and we hope to see the end of this draconian and discriminatory law this year.  This record of advocacy and expertise empowered our advocates to spring into action at the beginning of this public health crisis, helping all of our communities access critical health care and services when they needed the help most.
This year, Legal Council is embarking on an ambitious plan to expand our legal services to the far south side of Chicago with new partnerships. Over the past 30+ years, we have worked to further the mission upon which Legal Council began–using the power of the law to secure dignity, opportunity, and well-being for all. We are so thankful for our supporters, foremost Kimball and Karen, who have supported this mission and allowed us to build better lives and rebuild better systems.