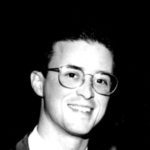 The Young Lawyers Section (YLS) of the Chicago Bar Association names our very own Justin Hayford its "2016 Liberty Bell Award Winner."  This annual award honors a non-lawyer each year who works in the legal system on behalf of the most disadvantaged.
For twenty-five years, Justin has been a case manager and paralegal at AIDS Legal Council (now a program of Legal Council for Health Justice).  During his quarter century of service, Justin has tirelessly advocated on behalf of low-income people with HIV who have nowhere else to turn for legal assistance.  He has has directly impacted the lives of thousands of clients, trained countless groups of service providers and legal professionals in HIV law, testified before legislative bodies, and taken on various state and local bureaucracies on behalf of his clients.
Justin came to AIDS Legal Council a few years after the organization was formed by young attorney James Monroe Smith. At that time, people with HIV were still being fired from their jobs or evicted from their homes. Others were denied life-saving services or lost the support of family and friends in their hour of greatest need. Justin was there to meet clients literally wherever they were and whenever they needed him. 
Justin has written numerous articles focusing on various political and legal aspects of the AIDS crisis for the Chicago Reader, The Progressive, The Public Interest Law Reporter, In These Times, and Positively Aware, among other publications.  He is also an award-winning cabaret performer and recording artist on the national LML Music label who uses his tremendous talent to raise funds for the Legal Council's work. Proceeds from his albums, shows, and other performances are donated back to our programs.  He raises over $10,000 each year, with every dollar going right to programs serving clients in need.
The 2016 Liberty Bell Award will be presented by Justice Maureen E. Connors, Illinois Appellate Court, First District, 1st Division at the annual Judges Reception on Thursday, May 5, 2016.
Read more here.