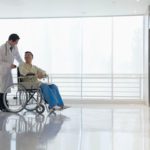 Frank suffered a traumatic brain injury as a child and has been a patient at one of our medical partner sites ever since. Unfortunately, when Frank was 18 years old, he was in a severe car accident, leaving him with more complex medical issues including severe paraplegia. At the time of the accident, insurance covered the cost of a highly-fitted wheelchair that required molds to be taken of his body to ensure his comfort and safety. A custom seat and custom headrest made for medically-necessary luxury that the family used for years (and years).
However, at age 30, Frank's chair (the same one he used for 12 years) was drastically too small, uncomfortable, and no longer safe or practical and Frank was at risk of constantly falling out of his chair due to muscle spasms caused by his condition and the no-longer custom fit no longer kept him secure. In order to feed him, Frank's mother had to hold his head still, because the old chair's headrest was not functional. Recognizing the need to a new wheelchair, Frank's family figured insurance could not deny this medical necessity.
Unfortunately, coverage for a new wheelchair was denied. Frank's mother did the best she could to fix the matter by appealing the insurance company decision. In the meantime, she created a harness so Frank wouldn't fall out of his chair. When Frank's mother asked for our help in the appeal, we knew Frank and his family had a need that could not and should not be ignored. Makeshift safety gear and 12 year old equipment was Our staff wrote an argument and through our work, the case settled out of court. Today Frank is happy, comfortable, and safe in his brand-new, custom wheelchair.