Empowering Change: Legal Council's Dynamic Partnership with the CPL Cares Program Addresses Homelessness & Health Inequalities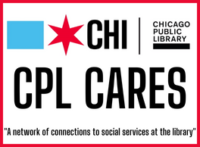 Health and homelessness are directly linked: individuals without stable housing are at higher risk of physical and mental health issues. Legal Council embraces community partnerships that break down traditional silos and bridge gaps in social services to address the underlying health inequalities that homelessness causes.
In 2020, the Homeless Outreach Program (HOP) joined forces with the Harold Washington Library Center to establish an on-site space, empowering library patrons to engage in learning opportunities and at the same time to access social services. The Chicago Public Library (CPL) Cares Program's primary focus is to aid individuals experiencing homelessness in Chicago. Initially established with three organizations –Thresholds, Heartland Alliance, and Street Plus/Chicago Loop Alliance — CPL Cares quickly expanded to include Legal Council's HOP team and four other advocacy and service organizations, further strengthening the program's impact and reach.
Partnerships like CPL Cares Program are an efficient and coordinated allocation of resources, avoiding duplication of efforts and maximizing the impact of interventions. By pooling expertise and funding, these collaborations can create a more comprehensive safety net for homeless individuals, ensuring they receive the support they need to rebuild their lives.
Legal Council was fortunate to speak Chicago Public Library's Division 1 Chief at Harold Washington Library, Michelle Carnes, about the impact our partnership has had on individuals experiencing homelessness who have participated in this program. We also asked our HOP staff — Senior Legal Advocate Kate Miller (she/he), and Avodah Advocate, Jake Novak (he/him) — about why the library has been an essential location for providing services.
1. How has the CPL Cares partnership with Legal Council's HOP program impacted the services provided to unhoused individuals at the Harold Washington Public Library Center?
Michelle: Legal Council's HOP participation has been integral to helping the more than 1,000 patrons per quarter get connected to not only housing (whether it is for emergency/overnight housing, short-term or long-term) but also to food, IDs, DHS public benefits, and referrals to legal assistance.
Kate: The longer the program has gone on, the greater the number of unhoused individuals we have successfully been able to serve!
Jake: The program has expanded access for individuals and fostered important connections with other agencies, which has been a great way to reach folks that we may not have been able to in a traditional manner. It has been important to "meet them where they are," and CPL is convenient for a great portion of our clients. The CPL Cares program makes it easy to connect with them in a more meaningful and genuine way.
2. What specific benefits do libraries offer as spaces for providing social services, particularly to those experiencing homelessness?
Michelle: One of the benefits of offering these services in the library is that most people view libraries as safe places and are comfortable coming to our facilities.  Another benefit is that the stigma that may surround going to a location to get social services is removed because a person can simply say that they are going "to the library" without having to specify where within the library. Lastly, the library has access to so many other free resources (i.e., computers with access to the Internet and Microsoft products) for people who need to complete a variety of applications or complete resumes or access their email accounts. [They also have] access to librarians who can assist with connecting them to books, websites, databases, and other resources that they may need, and access to community meetings or programs that are open to children, teens, adults, and seniors — whether for information, entertainment or simply relaxation purposes.
Kate:  It is an easy and convenient place for folks that don't have a regular place to stay. Having a drop-in center that has legal aid and other overlapping services makes it an excellent central point that people can revisit. It has been beneficial for our team to remain connected with other teams and build capacity across Chicago to better help give our clients stability. This is why this is a good option because people who are experiencing homelessness feel like it is a safe place, and the security guards do not stigmatize them and have been good at de-escalating any situation in a respectful manner.
Jake: One thing I took for granted before working for Legal Council and serving folks in Chicago is how many wrap-around services libraries can give to individuals. It is a cool thing for them to have access to comprehensive assistance by working closely with other organizations, like the Night Ministry, providing additional services. It's great because we're one gear in a network of a lot of other helpful agencies.
3. Can you share any success stories or examples of individuals who have benefited from the CPL Cares program and the services provided by Legal Council?
Michelle: Yes, last year, for the year summary, I asked each of the agencies to give any patron testimonials that they may have received during the year.
Here are a few patron testimonials:
"I can't believe I can walk up and talk to someone. I wish this were true in all the libraries!"
"Thanks for helping me out; I needed to find food today."
"You really listened and helped me."
"I wish there were more services at the library!"
Kate: Many of the people we have served may not have otherwise assisted, but because of Harold Washington Library's central location, it's been a good point of contact. And this project opens up the option of assisting people in other libraries in high-need areas, like in Chinatown and Englewood.
Because of CPL Cares, we are representing a 62-year-old individual who actually has a Social Security hearing this week. Due to their mental health difficulties, it has been difficult to reconnect with them consistently. The CPL Cares program offers the option of them easily finding us in order to continue working on the case.
Jake: I feel like many of the individuals we have been able to help are specifically because they were really only able to meet at the library because of difficulties with transportation. By meeting on Monday mornings, we were able to create consistency, and without that, we would not be able to keep meeting and slowly move their cases forward. It has been super important to expand access to individuals that are not as easily or readily able to do these sorts of public benefit applications on their own. The drop-in support in this specific location is truly an important resource to have and continue!
The collective power of partnerships provides a promising path toward alleviating homelessness by addressing root causes. By bringing together diverse stakeholders and working collaboratively, we can create a compassionate and effective response to homelessness that offers hope, dignity, and a path toward a brighter future for those experiencing housing insecurity.