Client Story: the Rodriguez Family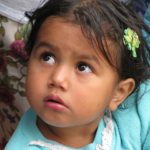 Rose and Miguel Rodriguez were a couple struggling to make ends meet, like many hardworking families in Illinois. Though they were both undocumented, Miguel had a steady job and was trying hard to provide a stable home for his three children: Felix, age 9, Mary, age 4, and Julio, age 2. Recovering from a stroke and struggling with language and memory issues, Rose was unable to work. Each child had a medical disability, but Rose and Miguel were doing their best to get their children the care they needed.
Last February, the Rodriguez's oldest child, Felix, died due to medical complications. This had a devastating effect on both parents. After Felix's death, both Rose and Miguel spiraled out of control into a deep depression. Rose became suicidal and was in great need of therapy. Miguel lost his job. Without work, the Rodriguez family was soon evicted from their home and became homeless.
When Legal Council stepped in through its partnership with the CHECK (Coordination of Healthcare for Complex Kids) Program at U.I.C, the couple had briefly separated, Rose had tried to commit suicide again, and their two remaining children lost their Medicaid benefits, leaving their medical stability in question.
To help the Rodriguez family, Legal Council and CHECK worked with three state agencies to help the family get the assistance they needed to fight their way out of such dire circumstances. Soon after, the children's Medicaid was reinstated, the Rodriguez family was able to transition back into a home, and arrangements were made to provide in-home nursing services for the two children and for Rose to get therapy twice a week as well as transportation for her to get to therapy. Legal Council is also in the process of getting a specialized car seat for children with disabilities and a wheel chair for the youngest child.
Though the Rodriguez family is not 100 percent back on their feet, it is easier for them to see a future in which they will be okay, thanks to Legal Council.