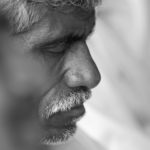 Matthew is a 60 year-old man living with bipolar disorder, asthma, depression, hepatitis C, and other chronic health conditions. He had a steady job for 30 years, but lost it as he struggled with his substance use disorder. After losing his job, Matthew moved in with his sister, but she soon asked him to leave when she felt she couldn't help him with his addiction.
After being kicked out of his sister's house, Matthew was left with nowhere to go. A few years later, he was placed at Columbus Manor Residential Care Home. In the years he spent homeless, Matthew realized he needed help and started receiving therapy at the CORE Center. Our partners at CORE told Matthew about Legal Council and the support we provide through our homeless program. Matthew connected with Legal Council, where our team identified several legal problems affecting his health. While working with Matthew, he had four asthma attacks that left him hospitalized. Soon, Legal Council learned Matthew's nursing home was not giving him the right medications because he did not have proper health coverage.
After talking to Matthew, Legal Council filed his Medicaid application and he was soon approved for quality coverage. When we told Matthew that he was approved, he immediately called his sister in excitement to see if he could move back in and leave Columbus Manor. Once he received health coverage, he began treatment for his substance use disorder and is now doing much better. Matthew only lived with his sister for a few months and is now flourishing in his own apartment.