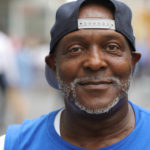 Imagine being homeless for more than 20 years while living with mental illness and a substance use disorder, and struggling to get the help you know you desperately need.
That was the case for Robert, a 54-year-old man raised on the west side of Chicago who had been homeless since the passing of his mother. Robert had lived with severe mental illness since he was a young boy, but never told anyone about his mood swings and suicidal thoughts, thinking he could "handle it" on his own. Eventually, he developed a substance use disorder and a heavy drinking habit to help him cope with his mental health.
After his mother's death, Robert lost the only place he called home. He never lived independently and couldn't sustain work. Because of his chronic psychotic and depressive symptoms and short temper, Robert acknowledged that working with others was difficult. Even though he was in poor physical health, he found he worked best in physically demanding jobs that involved little interaction with others where he could avoid the risk of conflict. He accepted any job he could get and saved up for a permanent home of his own, but his housing applications were denied repeatedly for years, likely because of his rocky past in the criminal justice system.
Robert eventually connected with Legal Council's advocates through our community partners. He and his case manager worked together to build a strong case that would earn him a steady income through Social Security and would allow him to access quality mental health treatment. With stability and a better future within his reach, Robert grew the motivation to manage his substance us disorder. He began taking medication, seeing a psychiatrist, and focusing on work.
Today, Robert lives in a nursing home where he receives the medical care he needs to manage his mental health and reach his full potential. With Legal Council's help, Robert's Supplemental Security Income (SSI) case was approved. He now receives a monthly income of $771, helping him afford food, transportation, and medication. Robert is now eligible for subsidized housing, and once he is better equipped to manage his mental health on his own, he can use his income to get the home of his own that he's always wanted.