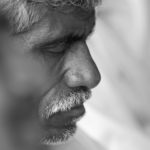 When Legal Council was introduced to Bryan, he had no help with the mental and physical health challenges he faced. Now, he has the support he needs to reach his full potential.
At a young age, Bryan faced unimaginable loss and trauma—first he lost his parents, and soon after lost his siblings. As he began to lose family, he developed depression and schizophrenia. He also sustained an eye injury in a motorcycle accident that eventually left him blind in one eye, and suffered an accident that resulted in chronic leg pain. 
To help manage the heavy burden of loss and trauma, Bryan self-medicated with alcohol and substance use. He did not have access to the treatment he needed for his mental and physical health challenges, or the support that could have kept him housed and healthy. He lived on the Blue Line for 10 years until he moved into a unit at Matthew House, a service provider for people who are facing homelessness.
Bryan was able to work at times as a mechanic and in temporary jobs until a few years ago, when his eyesight and leg pain worsened to the point that he was unable to be on his feet for extended periods of time. In search of a steady income to help him manage his health, he applied for social security benefits. Despite his many health challenges that made it infeasible for him to hold a steady job, his application for benefits was denied.
Legal Council connected with Bryan's psychiatrist and collected his medical records going back several years to help him re-apply. Finally, 10 months after reapplying with Legal Council, Bryan finally received his social security benefits, including a substantial backpay, and had a secure monthly income going forward.