A City Divided: Laquan McDonald and Health Disparities in Chicago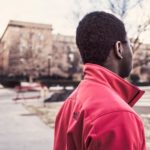 Last week, three Chicago police officers went to trial on charges that they were part of a cover up of the death of Laquan McDonald. The trial comes after Officer Jason Van Dyke was found guilty of McDonald's death after shooting him multiple times. 
On October 5th, Chicago held its breath. The jury was set to announce their verdict in the murder trial of Laquan McDonald. In 2014, white policeman Jason Van Dyke shot black teen Laquan 16 times, killing him instantly. The murder echoes past incidents of white cops killing black people, sparking protests for justice for Laquan. In November 2015, a police dash-cam video was released showing McDonald walking away from officers when he was shot, inciting more outrage. Despite Officer Van Dyke's October guilty verdict for his crime three years later, the damage was done. Another act of violence, another black body, another reason for communities to lack trust in their police and fearful for the lives.
Laquan was a resident of West Garfield Park when he was killed—a neighborhood riddled with not only police violence, but housing discrimination and segregation. With communities like this one struggling with poverty, stress is understandably high for residents. While places like the Loop flourish, neighborhoods like where Laquan lived and died are left struggling. To put into perspective, the average person living in the Loop lives to be 85 years old while the average West Garfield Park resident lives to be only 69. They are also more likely to die from diabetes or cancer, be unemployed, or be killed by a gun.
Neighborhoods in Chicago plagued with gun violence are intimidated by police with their history of police excessiveness and black and brown people dying. Even though public cooperation with police would be helpful in solving cases, it's a challenge for black communities. If there is no trust, there is a less chance that information would be shared with police. How can one feel safe without trusting those that are meant to protect and serve?
Before his death, the odds were stacked against Laquan; he was born substance exposed to a single teen mother, struggled with learning disabilities, and was in and out of juvenile detention centers. According to friends of Laquan, the stress of their living circumstances had a huge impact on their lives. Despite that, people said he was a bubbly, funny teen with dreams of either being a nurse or starting his own business. He was trying to get his life back on track.
Legal Council serves clients who have stories just like Laquan's; they're facing obstacles and living in environments that set them up for failure while being systematically oppressed. We believe that everyone deserves a chance to live fulfilling lives with opportunity. Laquan's life highlights the constant fight for justice people go through every day. The fact that this narrative is old and repetitive, just tells us the fight is far from over.