ALC's Trailblazing Work Advancing Transgender Rights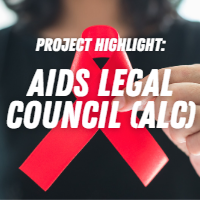 In pursuit of gender self-determination and equal rights for all and through the support of an Equal Justice Works fellowship, the Legal Council is expanding our advocacy for transgender individuals by addressing critical legal issues such as name and gender marker changes on vital records, healthcare access, and public benefits.  We are excited to begin this journey into this area of practice where need so significantly outpaces resources.
Name Change and Gender Marker Changes on Vital Records
For many transgender and nonbinary individuals, undergoing the formal legal process of name and gender marker changes can feel daunting and overwhelming. However, it is a crucial step towards achieving personal affirmation and visibility in the world. Name and gender marker changes play a crucial role in accessing essential services, including healthcare, housing, and employment. And being correctly named and gendered can hold immense personal significance, empowering individuals to express their authentic selves and participate fully in civic society.
Recognizing this, the ALC team — attorneys Amy Martin (she/her), Milo Vieland (he/him), and Health Corps, Stutee Acharya (she/her) — have led Legal Council's initiative to represent clients in name and gender marker changes. Together, they have represented individuals, conducted trainings, and provided valuable resources to aid transgender individuals in navigating the intricate process of legally altering their names.
The Transformative Justice Law (TJLP) spearheaded this initiative in Chicago and ALC's attorneys recognize the invaluable support and guidance provided by the Transformative Justice Law Project (TJLP) in their pursuit of advocating for transgender rights. As Milo described, "TJLP's advocacy efforts to challenge the publication requirement and felony ban that pose an undue burden on transgender clients have paved the way for more inclusive and accessible name change procedures. The ALC team looks forward to serving clients that were previously barred from name changes under these policies."
Moreover, a patchwork of laws exists across states regarding gender marker changes on vital records, creating significant obstacles for transgender individuals. Some states have outright banned gender marker changes on certain documents, while others impose bureaucratic hurdles or demand various degrees of medical proof of transition. Our and TJLP's advocacy seeks to aid client in understanding and navigating this complicated and often confusing process.
Complex Barriers to Healthcare Access
Transgender individuals also often face complex barriers to healthcare access, ranging from coverage gaps and discriminatory provisions to non-legal requirements and a lack of qualified providers. ALC's legal team has been actively involved in navigating these challenges, providing support through the LCHJ Trans Health Project's Medical-Legal Partnership (MLP) model. Through this initiative, they offer medical and social services support, help with health insurance navigation and appeals, and connect patients to referrals for further assistance. Their comprehensive approach addresses not only legal barriers but also bureaucratic challenges. The initiative provides holistic representation for a population that is too often subject to discriminatory and economically exploitative treatment by medical and other systems.
The ALC team has made remarkable strides in the first nine months of the project  By challenging discriminatory practices, furthering progressive policies, and providing crucial direct legal representation, they have played a pivotal role in advancing gender self-determination and fostering a more inclusive and equitable society. Their commitment to the legal protection of the transgender community stands as an inspiration to all those striving for equality and liberation.