Letter From the Executive Director, July 2019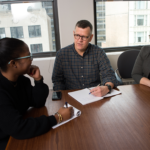 Dear friends,
I wanted to personally thank you for making a difference in the lives of thousands of Illinoisans.
Because of you, 1,500 clients received life-changing legal care from Legal Council in just the first six months of 2019. We're changing more lives than ever before, but we can't stop now.
While our clients face many obstacles, your support provides hope. So right now I'm asking you to protect the rights of those challenged by life-changing health conditions, and ensure their access to justice.
Will you give a gift of $25, $50, $100, or whatever you can so that more people will have the help they desperately need?
It's only because of your commitment that thousands of clients and their families can get the life-saving services they need to thrive. With you by our side, Legal Council will be here as long as needed to fight for our diverse communities across Chicagoland and beyond.
Sincerely,
Tom Yates
Executive Director
P.S. I hope you can join me on August 15 for our annual Summer Soirée at Sidetrack. 100% of all funds raised will go directly to our free legal service programs assisting children with disabilities, people who have HIV, and individuals facing homelessness.